One of the things we like here at Imaging Spectrum is seeing customers use our products in new and creative ways – sometimes in ways we would never even imagine. This month we chose the team at Snap Yourself! as they have gone big with the Brava Printer sticker media and the new greenscreen features in Darkroom Core 9.2.  This new breed of event photography and photo booth-hybrid imaging is making waves on both coasts. We learned a lot by talking with Adam Kleifield, co-founder of Snap Yourself!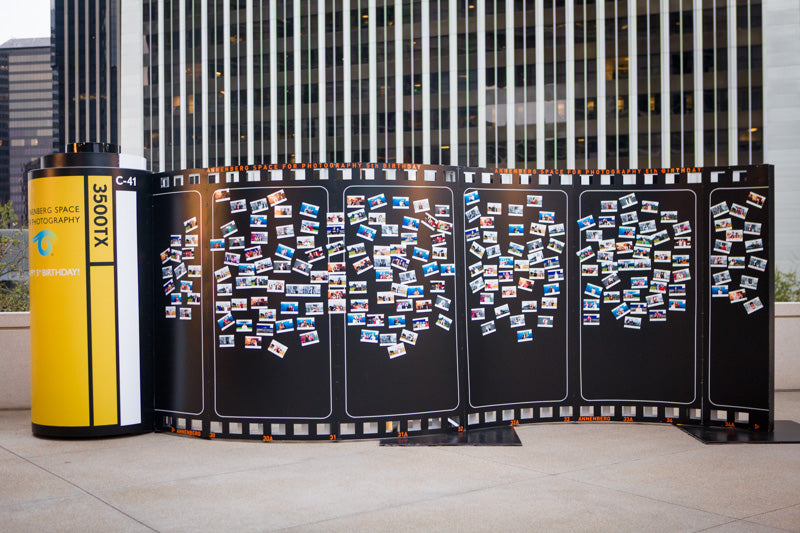 Imaging Spectrum (IS): When we look at your work, two things come to mind; "creativity" and "fun"! You offer some unique products, like the Custom Time-lapse Videos, Sticker Prints, Greenscreen and the wireless SNAP-er. We were intrigued and wanted to know how your customers respond to all of these options.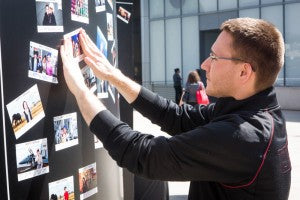 Adam Kleifield: Ultimately, we think there is nothing more important than the experience. It started with handing off the controls to our guests with the SNAP-er. They go at their pace and get the satisfaction of, "I helped create that". You often hear someone in the group directing everyone, "Look over there!" "Act surprised!" There is almost always a pause of laughter in between each shot. Once they realize how much control they have there is this switch of excitement that goes off that we never get tired of seeing.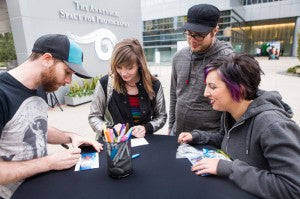 We generally like to keep things simple. We feel we have nailed down the experience and the quality of our photos but we get excited when clients approach us with unique concepts. We are careful about arbitrarily adding different technology to our setup but when we get requests like, "Can you make sticker prints so guests can post them on a 25 by eight foot film roll?" we don't hesitate to say yes. When it comes to green screen we want to make sure that part of the experience is guests getting to choose their own adventure by being able to select the background themselves. Some of the newer offerings like sticker prints carry a fun novelty appeal since no one has seen them before.
We feel like we give people the tools to be creative and the space to have fun. The rest is up to them.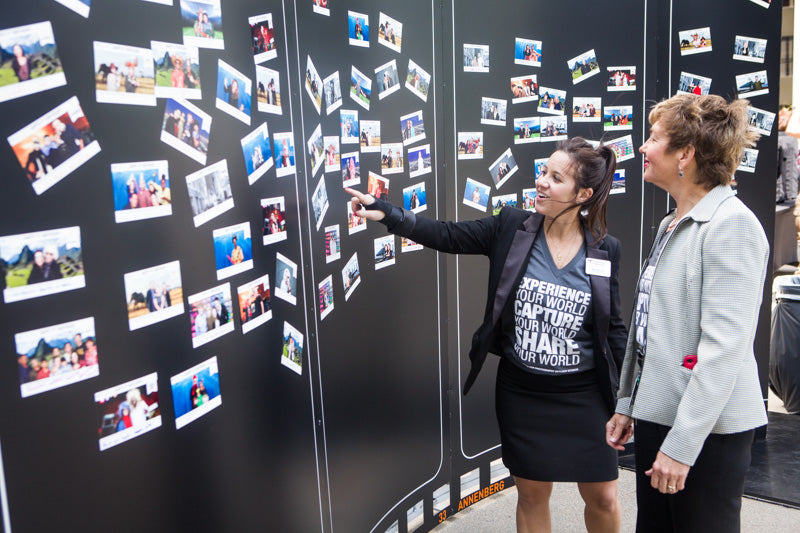 IS: You seem to have found a balance between the "event" business and "photo booth" side of the industry. How do the customers respond to having a Roaming Photographer and a Photo Booth set-up at the same event simultaneously?
Adam: Since we all come from professional photography backgrounds we thought it was only natural to carry some of that over. Sometimes you want to hire a bakery to make the cake but other times it's nice to get all your catering needs from one place. Although photo booths are for events, it's basically studio photography which is in a whole different genre of photography. It ends up being a foreign concept to ask your photo booth vendor if they can supply a roaming photographer.
Our customers end up with a full spectrum of images with the roaming photographer. Additionally, they enjoy the benefit of adding an activity with the possibility of a take-home photo and/or social media engagement with the photo booth. If clients are looking for both and see the quality of our roaming photography it's an easy sell. We understand turnaround time is essential to a photo booth company so they get to have the roaming photos days after the event as opposed to weeks or months.
It definitely adds some complexity on our end, but you know you're doing something right when a past customer is only looking for roaming photography and they come to us for it.
IS: Is most of your work 4×6 prints or do you also offer 5×7 or larger sizes?
Adam: 99% of the time we are printing 4×6. On rare occasions clients will inquire about printing bigger, but they are almost always dissuaded by the heightened costs and slower pace. We personally don't feel the math translates favorably when weighing 5×7 vs 4×6.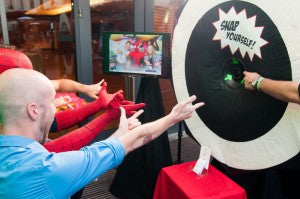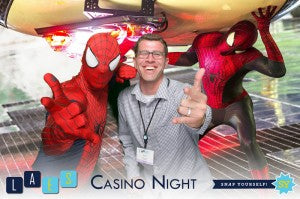 IS: What is your impression of the new and improved green screen feature in Darkroom Core 9.2?
Adam: Our first impressions are extremely positive. Even being newcomers to the software we are able to achieve a very attractive end result without any hassle. It's comforting to know that there are developers at Darkroom who are as fanatic about photo quality as we are! Aside from the terrific new greenscreen, the software's workflow is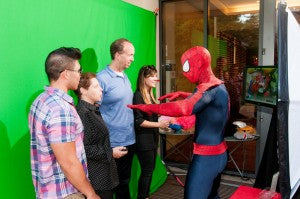 geared more towards an operation like ours than any other green screen options we have evaluated. Efficiency and minimization of time overhead is key at high volume events, and that aspect is obviously very carefully thought out in Darkroom. We look forward to taking advantage of everything the software has to offer.
Snap Yourself Bio:
Snap Yourself! was founded by a gutsy duo of photo industry professionals on a quest for a new kind of photo booth—the kind that eliminates the countdown of a traditional photo booth while making mere mortals look superhuman on film. Our open booths deliver editorial-quality photos and a monumentally fun experience. Since our humble start in Los Angeles in 2010, we have established a presence in the Bay Area, Minneapolis and New York and provide photo epicness at over 400 events per year. We couldn't do it without our awesome clients, who range from parents celebrating their kids' 16th birthday to international corporations pursuing gigantic promotional campaigns.