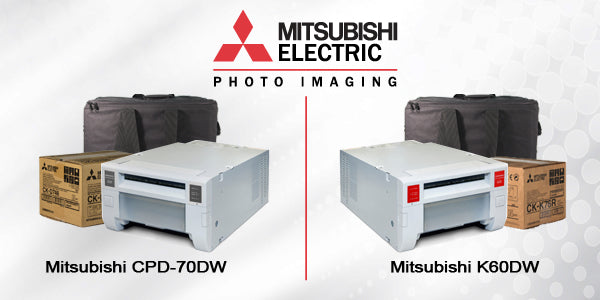 Don't miss this sweet deal! Order a Mitsubishi CP-K60DW-S or a Mitsubishi CP-D70DW Photo printer and receive one of our popular travel cases and a box of media free of charge. This is a $300 value.
Our travel case, also known as the "Billy Bag" provides protection for your printer when moving from event to event. The Billy Bag is big enough to hold your photo printer and a couple of rolls of media and cables. Click here to see more pictures.
You will also receive a free box of 4×6 media when you purchase the Mitsubishi CP-K60DW-S or a free box of 5×7 when you purchase the Mitsubishi CP-D70DW-S.
Mitsubishi CP-K60DW-s


Mitsubishi designed the CP-K60DW-S from the ground up to be used as a photo booth printer. This very popular printer falls into the economy class of dye-sub photo printers and while it's not the fastest printer out there it is fast enough and it has some very cool features. The K60 is compact so it's great for smaller photo booth builds. Much like its big brother the CP70, the K60 is solid with a metal body. Front loading makes changing the media out a very simple operation. One of our favorite features of this printer is that it can make a square 6×6 inch print. This feature has been popular with event photographers and now it is starting to catch on with some photo booth companies allowing users to offer instagram style prints.
MITSUBISHI CPD70DW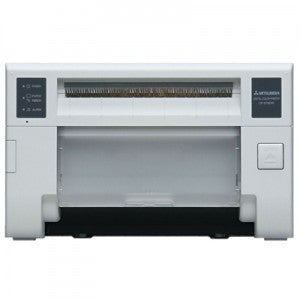 We recently highlighted the CPD70DW photo printer as the "printer of the month" in our photo booth newsletter. What we like about the CPD70DW photo printer is its ability to be used inside and outside of the photo booth. For event photographers using Darkroom Core or Darkroom Professional Software in a traditional event workflow, the speed and processing power keep the lines from getting too long. If you are working with Darkroom Booth software in your photo booth, the CPD70DW's small footprint and stability make it an excellent choice.
Hurry, this offer ends September 30, 2014.
If you have any questions about which Mitsubishi photo printer is best for your business and workflow give us a call and speak with one of our knowledgeable technical sales reps – 800-342-9294.