The technology is still new, but it has grown immensely as a popular option over the past year for producing apparel, especially t-shirts. 
You are reading this because you either own a DTG (Direct to Garment) printer, such as the Epson F2100, or are involved in some realm of making or wanting to make your own T-shirts to sell or just for fun. By now, you have heard the term DTF (Direct to Film) circulating out there in various T-shirt forums, social media outlets or even neighborhood barbeques, it's something that can't be avoided. No doubt DTF has caught major waves in the T-shirt making business over the past year and belongs in the conversation when it comes to the big world of DTG printing. And here at Imaging Spectrum, we have done our due diligence of testing products on our Epson F2100 DTG printer and now offer a wide variety of transfer sheets, rolls, and powders for the purpose of Direct to Film printing.
Ok – that is good and all, but WTF (What's the Facts) on DTF? And how does it compare to DTG printing?
---
DTF Overview
DTF as mentioned above is short for Direct to Film. The technology is still new, but it has grown immensely as a popular option over the past year for producing apparel, especially t-shirts. The technology of DTF involves printing designs onto clear polyester films with water-based inks and then shaking a special powder adhesive coating over it to cover the print before pressing. After curing, you then utilize a heat mechanism such as a heat press to transfer the image onto the garment. Basically, the powder acts as the pretreat solution.
Watch this Video on the DTF Process. 
---
DTF vs DTG – Who wins?
For those you own a DTG machine, you know it's a great solution for printing full color designs, especially for custom made orders. DTG is especially perfect for short run requests and opened the door for screenprinters to take on more print jobs. However, DTG does have a few limitations with the pretreat process being top of the list. There is a learning curve with pretreating and in some cases, it can be more time consuming and adds cost to the print. But there is no doubt that pretreating is the key to success that makes sure DTG prints come out looking great and hold up over time on the chosen apparel. On that note, you are limited to the apparel choice when pretreating as most of the time it's for cotton or certain tri-blend shirts. With DTF, most of the limitations with DTG are solved.
Here are the main advantages of using DTF vs DTG
DTF can be applied instantly to wider amounts of garments (Cotton, Polyester, Nylon, Spandex, leather, 50/50 blends, both light and dark fabrics)
No need to pretreat – the hot melt powder is applied directly to the material
Saves Cost – yes, DTF transfer film combined with the powder does save cost on your prints as it can reduce the usage of white ink, cost less on materials used – But this is mostly seen with one-offs and in the short term. In the longer run, pretreating does pay off.
More versatility – This meaning you can stack up on several different printed transfers to be ready to press on any type of shirt at a given notice, so can increase your offerings especially on repeat images. And you can offer to sell the actual transfers. 
Eliminates the change out of multiple screens for multi-color garments – A viable solution for screenprinters (DTG also provides that)
Now, why is DTG better than DTF?
Higher Quality, Feels Better – With DTG, you will get outstanding color output, a softer hand felt shirt, smoother gradations and more of that craved retro look as it prints directly onto the garment – DTF has great color output but more of a raised feel on the garment
Cotton is king with DTG – If mainly printing cotton-based shirts, stick with DTG – you will get a much better product on color, feel and performance at a reasonable workable cost
Better solution for a specific clientele with limited fabrics (i.e.- school organization, corporate office team outing, etc.)
Better suited for custom made requests at a professional level or one-off retail purchases
DTF and DTG won't replace screenprinting for much larger simple color runs, but the trend keeps showing more and more screenprinters are switching to either of these print methods to meet the growing demand on t-shirts. 
---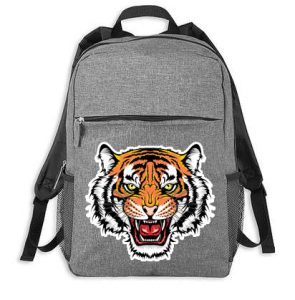 We mainly talked about T-shirts, but note that DTF can also be applied to several other types of apparel and items such as backpacks, shoes, caps, etc., much like DTG. Where DTF exceeds is an easier transfer on those smaller type prints to those specific items and can.
Overall, here at Imaging Spectrum, we feel DTG printing with a printer like the Epson F2100 is the best solution in a professional environment where garment production mostly consists of custom-made orders. This is mostly preferred with group or team orders that require short to long runs up to 100 pieces and especially if working primarily with cotton-based apparel, that is king with DTG!  
However, we realize there definitely is a place for DTF as it creates a whole new path to expand your business and create more print orders. With our F2100 DTG customers, DTF can be a great option for those harder to pretreat garments such as polyester, nylon, tri-blends, spandex, etc. And it can open the door for other sellable avenues as a transfer sheets and quick one-off requests. 
Our stance at Imaging Spectrum if you are new and getting into the DTG business, we will always recommend purchasing a pretreat machine.  In the long run, pretreating will save you on overall cost and will provide you consistency throughout the shirt marking process.  However, we get sometimes the pretreat machine doesn't meet that initial budget and DTF could offer a more economical start to get the business off the ground.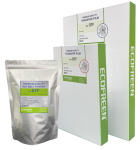 ---
Look to us for your DTF supplies!
We sell several DTF transfer films at different sizes and have both the Hot Melt White and Black Powder. And of course, if you have any questions on DTF or DTG printing, please call an inkjet specialist at 214-324-9290.