Whether you're dabbling in garment printing or wanting to get into the business, it's helpful to know which fabrics and products are easiest to print on to start. Starting with easy-to-print fabrics makes the process of learning fun and reduces the amount of frustration you may encounter, which might turn you off to an otherwise creative and prosperous venture.
In this article, we'll look at how you can best identify fabrics that are easiest to print on, and how to go about the printing process. Â 
What Kinds of Fabrics Can You Print On?
Although t-shirts may all look the same, they're made up of many different materials. And it's helpful to think of your t-shirt as a canvas to paint on, and as the canvases used by master painters, the higher the quality material, the better the painting will look. 
So, you must pay close attention to the fabrics you plan to print on to know which ones will take the ink the best for beautiful results and which ones are going to give you a headache.
Let's first look at the types of fabrics you can choose from: Natural and Synthetic.
Natural Fabrics
Natural fabrics have been around as long as people have been making garments, and as the name implies, natural fabrics are found in nature. Types of natural fabrics include wool, silk, and cotton.
Synthetic Fabrics
Synthetic garments are human-made, and while old clothes made from synthetic fibers had a bad rap for being stiff and uncomfortable, today's synthetics are soft, breathable, and long-lasting. Synthetic fabrics are ideal for applications such as sports because they're great at repelling sweat and moisture and keeping the athlete cool.
Also, because of the abuse put on these garments, synthetics hold up very well over a season.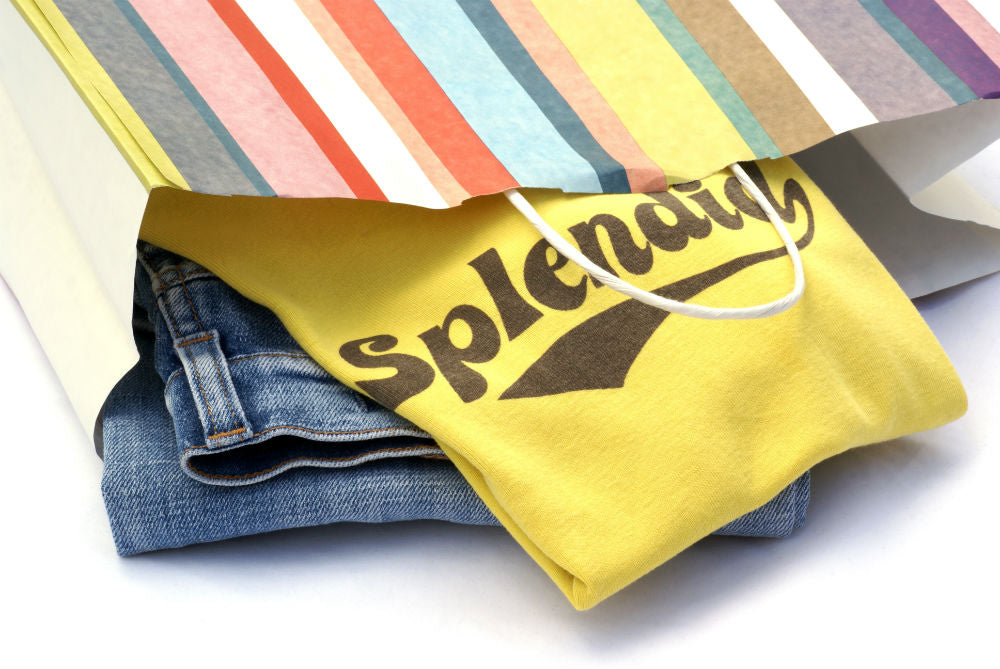 Which Fabric is Best for Printing?
Since natural fabrics absorb liquids easier than synthetic, they're much easier to print on, so it's recommended you start your fabric printing adventure using cotton t-shirts.
Of course, you can also print on synthetic, but that takes a bit more skill, which is why natural fabrics are the better choice to start with.
Now, there are a variety of methods you can choose to print on your garment; the most popular methods are:
Screen printing:

Uses ink pushed through a mesh screen onto the garment

DTG printing (Direct to garment)

: Prints directly from a special digital ink printed onto the material

Transfer printing:

Used for printing designs on shirts using heat

Sublimation:

A unique technology that melts the pigments onto the material for smooth color transitions and beautifully detailed images
For natural fabrics such as cotton, screen printing, and DTG printing are the methods that will give you the best results. If you want to try your hand at transfer printing or sublimation printing, you're going to have better results with a synthetic such as polyester. Â 
 
What Tools Do You Need To Begin Printing?
The good news is that the technology to get into the t-shirt printing business is easily accessible and relatively inexpensive; virtually anyone can get started with minimal investment. 
To get started, the first thing you'll need is a printer. Since you're probably just starting out, we'll leave out the screen printing machines for now as they're quite an investment, take up a lot of space, and can be challenging to learn right out of the gate. 
To start:
Consider going the transfer printing route since it's the easiest and least expensive for beginners. For this, you'll need a good inkjet printer, transfer paper, and a heat press to transfer your design to your garment.
Don't worry about buying an expensive heat press right off the bat because you can use a household iron.
Choosing the right transfer paper is crucial to your success too.
There are two main types of transfer paper you will need: Light and dark. 
It's pretty self-explanatory but use the light paper for printing on light-colored fabrics and the dark paper for dark fabrics. You can also use freezer paper for great results. Lastly, use a gel medium to transfer an image onto a garment. This is excellent for a 'one-off' but not ideal if you want to do multiple shirts. Next, you will need a computer. You can use either a Mac or Windows operating system, whichever is more familiar to you.
To make your designs, Adobe Photoshop and Illustrator are the kings, but you can get by with other programs such as CorelDraw or Inkscape. Photoshop is ideal for printing photos and other images onto t-shirts, while Illustrator is the 'go-to' tool for creating vector designs and illustrations.
 
What Other Products Are Good For Printing?
Once you become more familiar with printing on t-shirts and maybe have sold a few, you'll want to branch out into other products to expand your business and your creativity.
The good news is that there's a wide variety of products you can print on that are in high demand. If you have a hot design for a shirt, there's no reason you can't use that on another product such as a pillow or tote bag.
Here are some great ideas for products you can incorporate into your printing business once you get going:
Phone and tablet cases

Pet clothes

Pillows

Tote bags

Stickers

Mousepads

Mugs

Wall art

Hats

Towels

Koozies
The beauty of printing designs on fabrics and products is that there's no one right way to do it, and if you're creative, you can get amazing results from whatever method you choose. The key is to experiment with the easy techniques first and then work your way up to more complex designs and printers.
If you want to start a business, a decent setup will set you back a few thousand dollars, but remember that the products you make will pay for the tools if you're good at marketing your wares.
Printing is fun, and there is no greater feeling than seeing someone wearing one of your designs in public!
Now that you've got fabrics down…
CHECK OUT THE BEST PRINTERS FOR STARTING A T-SHIRT PRINTING BUSINESS