So you've decided to start your own t-shirt printing business. Congratulations! It's a fun job with the reward of seeing your t-shirt creations being worn around town.  Before you start down this road, you probably have a lot of questions, such as how much do you charge, how much money can you make, and what type of printer should you get.
The last question is one you should answer first because it will dictate the answers to many other questions you have. Finding the right printer for your business can be tough because there are so many options available on the market. 
In this article, we look at the types of printers to consider for your new business and give you suggestions on the best printers to look at.  
Types of T-Shirt Printers
Today, there are two main types of printers in use by most t-shirt printing companies: the screen printer and the DTG (Direct to Garment) printer.
Screen Printing
Screen printing is a technology that's been around since the 19th century and it's the technique most people are familiar with. Screen printing is done by pushing ink through a mesh screen stencil onto the shirt. Since the ink doesn't soak into the fabric, it needs to be cured via heat.
For a long time, this was the only way people had to print products like custom t-shirts.
The advantage of screen printing is that you can get into it with very little money. If you want to do a one-color design, you don't need a large cash investment to get started.  Since each screen represents a different color in your design, the more colorful the design, the more complicated the process is, which makes it a poor choice for designs with multiple colors unless you're printing in large quantities to make it cost-effective.  
DTG Printing
DTG printing is a newer technology that involves a special ink jet tinge that sprays the ink onto the shirt, which soaks into the fabric. The big advantage of this technology is that you can create complex, colorful designs easily and inexpensively.
Setup is much simpler than screen printing where you have to adjust each screen to make sure it's in the register before you print. With DTG, you just press 'print' and it prints. 
The major disadvantage of DTG printing is that it's not cost-effective for bulk runs and is better suited for smaller jobs like under 20 shirts. 
So:
If you're starting, getting a DTG printer is the better option because it allows you more flexibility creating designs and you can do more complex artwork that'll look great on a shirt.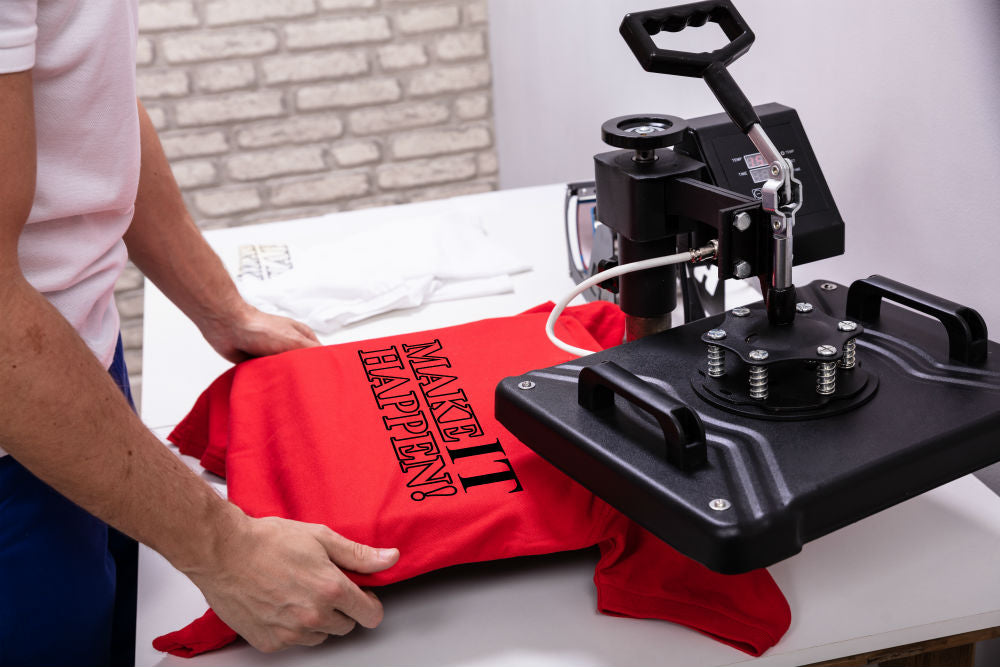 Top 5 Printers in the T-Shirt Printing Industry
Now that we've decided a DTG printer is the way to go for the new entrepreneur, let's look at the most widely-used printers in the industry right now.   
Our Favorite: Epson F2100
First on our list is the Epson F2100. The F2100 is a small unit that measures about 3' x 5' and about 1.5' high making it perfect for placing on a table or bench. The size and quiet operation are the two features that make this printer stand out. The Epson F2100 is one of the top-selling DTG printers because of its speed and quality.  Price-wise, you can expect to pay about $15,995 for this model.  
Brother GTX
Next up is the Brother GTX. The GTX is larger than the Epson, at 4.5' x 4.25' but still able to be set up on a table or bench, making it ideal for those who want to start their business at home. One nice feature of this printer is that you can get a stand if you desire. The price for this is about $22,500.  
Col-Desi (DTG Digital) M2
The Col-Desi (DTG Digital) M2 is the next printer to consider. This printer is distinct among the ones we looked at because it has two platens so you can print two shirts with one pass. Because of the dual-platen design, this printer is a beast at 4' x 3' but still fits on a table or bench. The cost of this printer is about $19,995.  
Kornit Breeze
Next up is the Kornit Breeze which is the biggest printer on our list at 4' x 5'. The standout feature on this unit is that it has an integrated pre-treatment system, which is a liquid solution that makes light-colored inks show up better on dark shirts. Think of pre-treatment like a primer on drywall before painting. While this is a fantastic printer, it's the second most expensive one on our list, coming in at about $70,000.  
M&R M-Link-X
Last is the M&R M-Link-X. This is the only printer on the list that's free-standing which means it's not suitable for a bench or tabletop. It's also the biggest one at 4.5' x 5.5'. Because of the size and the price, about $74,000, this isn't a good choice for someone who wants to test the waters with a home-based printing business. If your business grows and you need to up your game, this is a nice option to have.  
How To Decide Which Printer To Buy
Before you plunk down your hard-earned cash on a printer, you must first decide what kind of printing you want to do.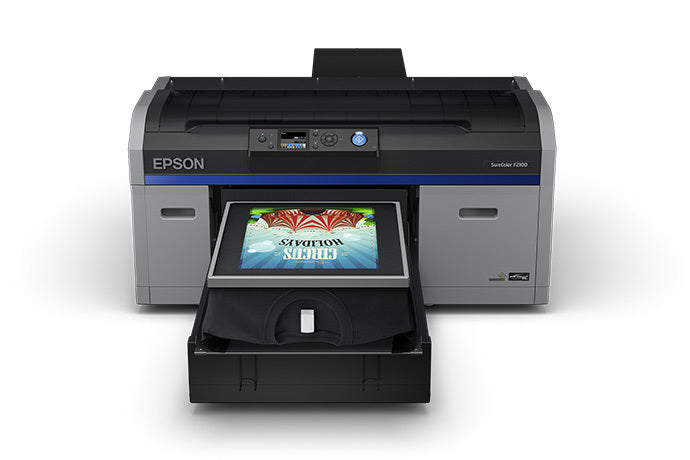 Also, consider your budget and your market. If the market is ripe for a screen printer, think about spending more money on a professional printer so you're able to keep up with the work as it increases. 
Whether you're deciding between one of the best Epson F-series printers, or a printer from the Brother line, getting a printer shouldn't be difficult. You can find any model you want online, but be sure you get a warranty on the equipment and see if they offer support if you run into trouble.
Getting into the t-shirt printing business is fun and it's a great way to make money by using your creative skills. The key to success is to have a solid business plan in place before you purchase any equipment, and make sure there is an established market to buy your products before you open up shop.