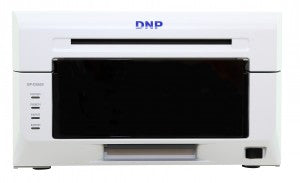 Download the latest DS620A driver and firmware to enhance printer functionality and bug fixes. The addition of fine matte printer has been added to both firmware and driver for fine matte printing support. When updating your printer driver, please uninstall the previous driver before installing latest drivers.
Firmware 1.54
Added fine matte to printer functionality
Improvement to matte finish printing speed
Driver 1.0.5.1
Printer information and printer preferences freezing in Windows 10 has now been fixed
Support for fine matte printing
Improved indicators for supported and unsupported print sizes per loaded media

Print sizes that are unavailable based on the loaded media size will be greyed out
Print sizes that will have white borders (i.e., 5×7″ on 6×8″ media) will be marked with the warning exclamation triangle
To utilize the newly added fine matte printing and the matte printing speed improvement, both driver and firmware must be installed.
Learn more about the DNP DS620A
If you have any questions, please contact the DNP official service and support