Shane and Susan Kiesner
We get a lot of bookings because of the uniqueness of our business name, and we are often asked how we came up with it.
In this customer profile, I am pleased to introduce you to Shane Kiesner, owner of Smiling Dog Entertainment located in Des Moines, Iowa. Shane started a photo booth business just eight years ago and has grown to include wedding, and event services.
---
Tell us about your business, what's your story?
I began my photo booth business, with one Strike a Pose cabinet style photo booth, as a way to introduce people to the professional photography business I was starting. I thought I could advertise photography services at events like proms, senior photos, and other events where we had our photo booth setup. Instead, the photo booth business took off and I turned my focus from building a professional photography business to building a photo booth business.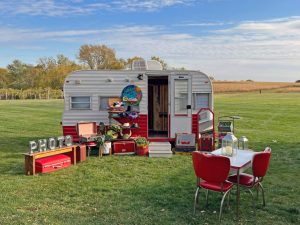 We started off with the one Strike a Pose booth, then added a second, buying it used from someone who had used it for about 4 events before deciding the photo booth business wasn't for him. We stuck with the cabinet style enclosed booths for a long time even after open booths became the norm in other parts of the country.
Eventually we were getting more inquiries about the open booths so we added two Pic Station Mini's to our lineup. Then we added a third, a used Minh Booth, and a T-11 booth. We also purchased a 1968 Shasta Airflyte Camper Booth and have a 1950's Vintage TV Photo Booth. 
---
Why do your customers love you?
The best way to answer this question is to tell you a few things our customers have said about us.
We respond quickly to inquiries and to all messages from our potential and current clients
We print a copy of the photo strip for each person in the photo, every time, while other limit the number of prints provided
We still offer an enclosed photo booth option
The quality of our photos is outstanding
Our photo booth has "personality" where others are dull and boring 
We provide outstanding customer service, and we make sure the client is satisfied with the resolution for any missteps 
We are so easy to work with, and we do a great job of communicating throughout the booking and planning process

---
How has working with Imaging Spectrum and Darkroom Software affected your business?
While our initial photo booths came with Darkroom Booth software pre-loaded, I have had many opportunities over the last 7 years to try other software and have found nothing that Darkroom Booth doesn't already offer or that they do better.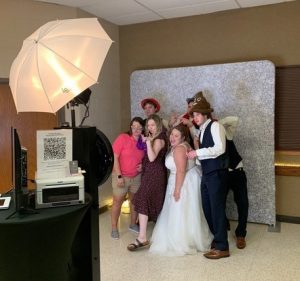 In addition, I've developed a great rapport with, and respect for both Wally Carnes at Darkroom Software and Bill Vahrenkamp at Imaging Spectrum. The customer service and support for my business that I've received from these two individuals in particular and the entire Darkroom Booth and Imaging Spectrum teams, has made me a loyal customer and has helped me tremendously in building my business it is today. 
Another significant way that Imaging Spectrum impacted my business was by helping resolve the media supply issue when the manufacturer decided to stop producing paper and ink for the Brava 21 printer. At that time I had nothing but Brava 21 printers, nine of them in my business and was in a panic over what to do.  While the solution took a while and I had to buy a number of new printers, I am now able to use my Brava 21's in part because of the efforts of the team at Imaging Spectrum.
---
How did you get through the pandemic?
During the pandemic I thought it would be a good idea to host Live Darkroom Booth Zoom trainings.  I reached out to Wally to see what he thought of this idea and if he'd participate in the trainings if I organized them.  Wally supported the idea and so did Bill when I reached out to him to be involved with specific training topics.  During a time when not much was going on in the industry Wally and Bill lent their expertise to help others learn to be better prepared once events started back up again. We did nine weekly training sessions and I believe that Wally was involved in every training except one.
There have been many other occasions where both Wally and Bill have spent significant amounts of time answering questions about aspects of the photo booth business and photography and printing in general. I like doing business with companies that I believe have the same commitment to outstanding customer service that we do in our business and that's why we love working with Darkroom Software and Imaging Spectrum. 
---

What else would you like readers to know about your business? Â 
My business is still growing and I'm always looking for ways to improve the quality of the experience we provide to our clients.  I strive to learn from my colleagues and friends in the industry and to take advantage of the learning opportunities offered through events such as the Photo Booth Expo and others.  As we go through our 8th year I still don't think we've done our best work yet and I want to get to the point where we are doing AMAZING work every time out.  My wife Susan will tell you I'm rarely 100% happy with how an event turned out and that I always think we can do better.
---
Shane, thank you for taking the time to speak with me. It's a pleasure doing business with you and we look forward to hearing more about your continued success.
-Steve