Follow the instructions below to load the Windows driver and some print options for the Fujifilm ASK-300.
---
Install the Latest Driver
Get the ASK-300 driver installer here, www.fujifilm.com/us/en/business/photofinishing/photo-printer/ask300/support.
Be sure to select the correct Windows version and whether you have 32bit or 64bit.
Download and extract.
Plug in and turn on the printer. 
Follow the instructions here to load the driver, www.imagingspectrum.com/blog/2018/04/dye-sub-printer-driver-fix-workaround/
---
Set Printer Size Preferences
For 2-2×6 on 4×6 set paper size to 6x2inchx2 Type1
---
Did you know you can print two 4×6 prints on 6×8 media?  Here's how:

In the driver Properties-Preferences, set the Paper Size to: 6x4inchx2
Set the Copies to: 2
Make sure you send a single 4×6 photo; the Copies set to 2 will duplicate it on the 6×8.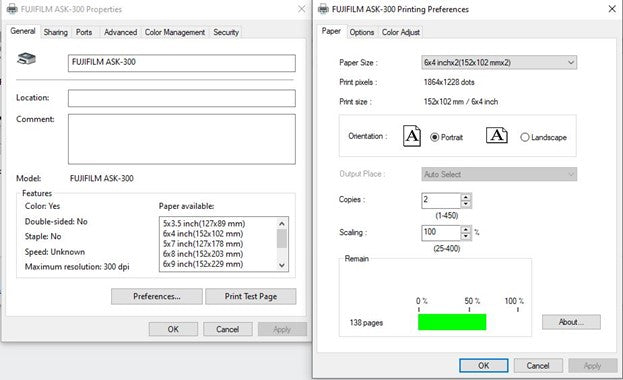 ---
Set the ICC
In the driver Properties, under Color Management tab, click on Color Management. 
In Devices tab, Click on Printer and set for FUJIFILM ASK-300.
Click on Use my settings for this device.  Set Profile section on Manual. 
Click Add… and select: ASK-300 V1A
---
Setting Darkroom for Printing 2-4×6 on 6×8 with the Fujifilm ASK-300
In Darkroom setup, click on Printer Options.  Click on Add Printer to add the ASK-300.  In Windows Printer, click on Properties and make sure it is set for Paper Size: 6x4inchx2.  Set the Copies to: 2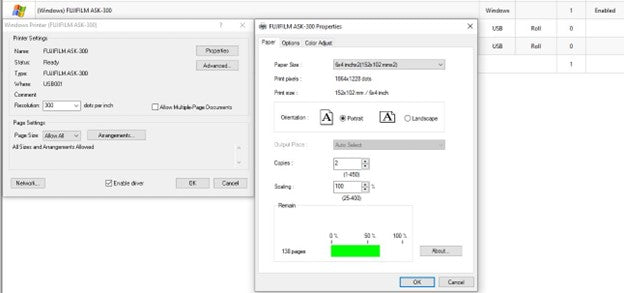 When you print a 4×6, be sure to select 2-4×6 on Enter Number of Copies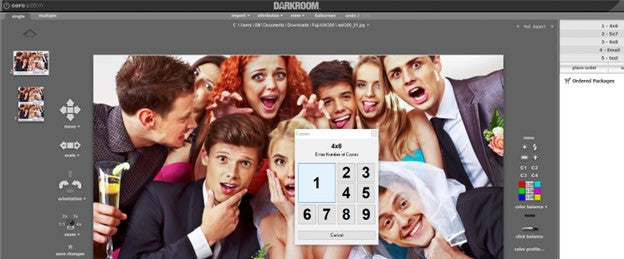 ---
I hope this information is helpful and if you need assistance, call me at 214-342-9290 or email techsupport@imagingspectrum.com.
-Bill