The North American DTG market is currently valued at over $2.5 billion and is expected to achieve a compound annual growth rate of 10.5% through 2021. In short, you should jump on this lucrative bandwagon and get your piece of the pie. 
If you'd like to master the art of DTG printing — don't worry, it's much easier than you think — here are some tips from the pros and info on the best DTG printers on the market.
4 Tips to Master DTG Printing
As with any art or science, there are basic steps that professionals acquire to master their trade. DTG printing is no different. Here are four tips to help you master DTG printing for your business.
Use Quality Garments
This is a step no printer can avoid. Quality t-shirts make a huge difference when printing your shirts. DTG printing works best with 100% cotton shirts – and people love them, too. Cotton is soft, comfortable, breathable, and worn on hot and cold days alike. 
Ideally:
Look for options that say they are "ring-spun" as this type of cotton will give you the softest, most durable t-shirts available.
If you want a blend, go with 50/50 and tri-blend materials but proceed with caution. Run several tests to ensure color and design fastness. Also, check for the brilliance of colors and design permanency after washing.
Polyester should generally be avoided for DTG printers as poly material is designed to repel water – a significant problem given that DTG ink is water-based. When printing, the ink won't adhere to the polyester fibers and will come off after a wash. 
However, if you really want to print on polyester, it can be done but it does make the process more complicated. 
Use Epson's Polyester Pre-Treat, which is designed to allow DTG printing to adhere to 100% polyester fabrics with little to no fading and complete colorfastness.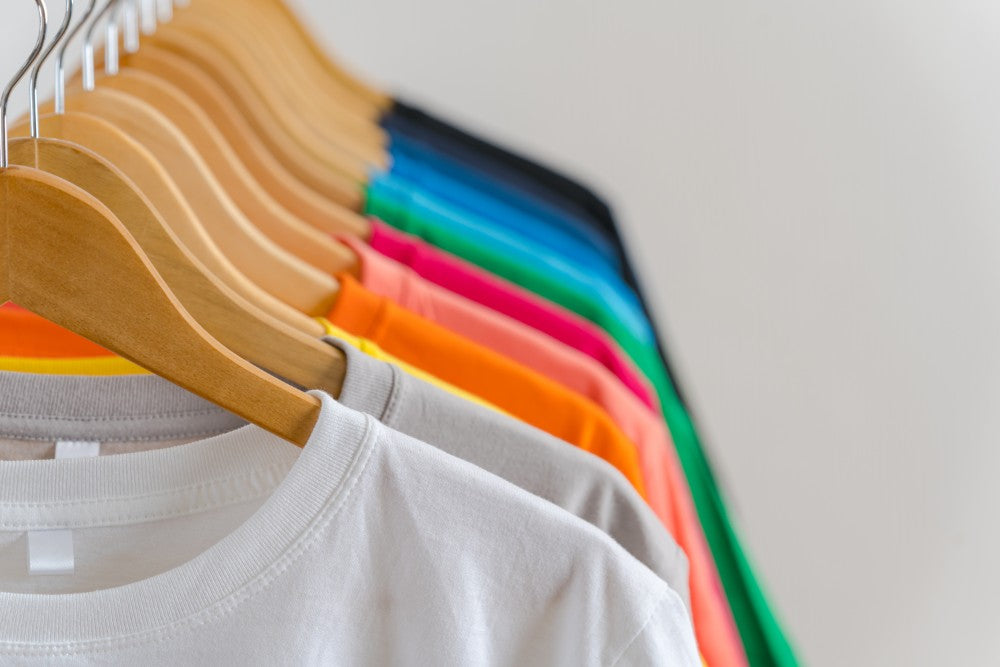 Pretreat Properly
Any t-shirt printer knows that the key to printing starts before the shirt is sent through. All t-shirts should receive pretreatment, and setting your pretreat machine to the correct specifications is vital. 
The quality of your shirts starts in the pretreat phase. You should hit somewhere between 28-32 grams of pretreatment solution per t-shirt. 
If you want your shirts pretreated to perfection, use a heat press for 5-7 seconds before printing to smooth wrinkles, remove any moisture, and create a smooth printing surface.
Practice Placement
T-shirt placement is crucial. If your shirt is even a smidge off, you'll print a crooked design and be stuck with an unusable shirt. When you first start to use DTG, or if you need to retrain your eye, use a measuring device to figure out proper placement on the platen. 
As you do this, you'll begin to get an eye for where the shirt should go. The more you practice, the better you'll be. 
Don't skip this step, and be sure to practice for long enough that you are more than confident before you ditch the measuring tape and start positioning by sight.
The more you master this skill, the better and faster you'll become with your t-shirt production. If you add a set of platens, you'll be able to move even more shirts through. 
Keep Detailed Records
As you learn the art of DTG printing, keep clear notes regarding what works for you and what does not. Figure out what works best for optimal workflow and phase out anything that causes disruption or delay. 
Keep a record sheet to track details such as processes used, garments printed, fabrics used, inks employed, placement use, and outcomes. This will help you determine the best of each category to improve production. 
If you want to try something new, set aside time for experimentation when you're not on the production clock. And never experiment with a customer's order to try out a new process.
DTG Printers
There are several DTG printers out there to choose from that all have their own advantages over each other (Brother, Neo Flex, Summit), but our absolute favorite of the bunch hands-down is the Epson F2100 DTG printer and here's why:
Epson F2100
This is our absolute favorite DTG printer of the bunch. This is a high-performance machine known for reliability, precision, and brilliance. It's lightning-fast and prints vibrant, photo-quality images. 
The Epson F2100 infuses ink into the shirt, so there's no cracking or fading of the design. The quick-load platen enables you to switch out your products and reduce down-time between printing jobs. 
White ink mode ensures one, smooth printing job from start to finish, no need to print white and color separately for your design.  
Finally, a touch-screen interface makes tracking products, uploading designs, and performing maintenance checks a breeze. 
Become a DTG Wizard
With a little practice and some know-how, you'll master DTG printing before you know it. By using quality garments and effective methods such as pretreatment, along with a quality DTG printer, you'll soon be serving happy customers. Now that you know what it takes for quality DTG printing, what will you do next?