Digital fabric printing has changed the game from top to bottom. Gone are the days of extended gaps between the design phase and the printing phase. Pioneering companies like Epson are making some of the best digital fabric printers in the industry and they can be a huge boon to your business.
Of course, these are not traditional printers. They are wide-format printers that were specifically designed to print directly onto fabrics and textiles for businesses. These digital fabric printers can be a great investment if you are in the fashion or design industries.
Imagine conceptualizing a design, drawing it out and then being able to print it almost immediately after you have the finished product.
No more waiting for the long silk-screen printing process.
If you are a business owner and you want shirts with your company's logo, a digital fabric printer would be massively helpful. Garments for team building retreats can be made within days instead of weeks.
You can make as many uniforms as you need for your employees without having to go off-site and pay a silk-screen printer.
Digital fabric printers can also cut overhead costs and make your business more efficient. Traditional silk-screen printing consumes a lot of water and electricity. Digital printing has revolutionized the process and has made it much more cost-effective and efficient.
As a business owner, you know that time is money. 
Imagine:Â 
Being able to get large print jobs done in less than half the time it used to take with traditional garment and fabric printing. That is the reality that is available to you now with digital fabric printing.
If at this point your interest has been piqued about digital fabric printers then take a look at the list we compiled on the best Epson digital fabric printers. Â 
 
The Best of the Epson F-Series Printers
The great thing about the Epson F-Series is that they were designed and manufactured with only fabric printing in mind. That means that they did not just retro-fit and repurpose one of their existing models just to meet the demands of consumers.
Every aspect of the F-Series was built specifically to meet the needs of digital fabric printing.
That all being said, let's get into detail about the best F-Series models.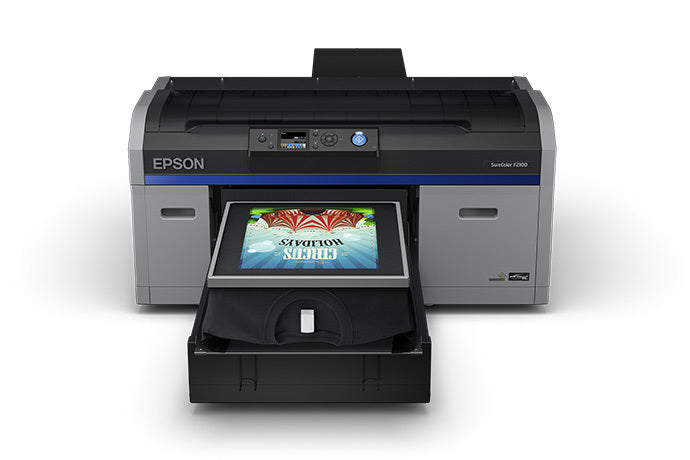 SureColor F2100
The  F2100 is the leading direct-to-garment digital fabric printer, which means you can insert your fabrics right into the printer and it will print directly onto the material. The F2100 is fast too! It prints twice as fast as the first-generation models.
You can print on materials that are up to .98 inches thick. It can print at a resolution of up to 1440 x 1440 for white ink and 1440 x 720 for color ink.
Pros:
Fast print times

Self-cleaning features

Can handle a wide array of fabrics
Cons:
Relatively pricey

Heat press times for white ink is relatively long
SureColor F6200
The F6200 is a bit smaller than the F2100 which may be a good thing if your fabrics and textiles are not that large. It is more compact and features high-density black ink technology. This model prints at a speed of 720 x 360 dpi and can print in resolutions of up to 1440 x 720 dpi.
One of the most useful features of this particular model is that it was built to run continuously. That's 24/7 operation with no problems for all of your large-scale print jobs.
Pros:
Very good print quality

Fast dry times

High capacity ink cartridges so you don't have to replace them often
Cons:
Runs relatively loud

Relatively pricey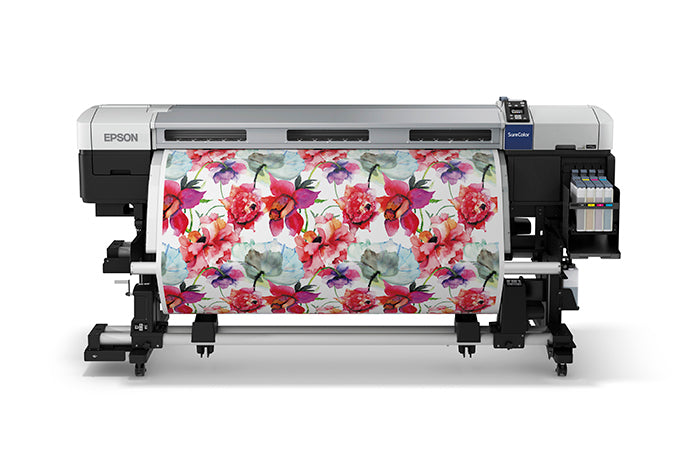 SureColor F7200
The F7200 comes with dye-sublimation technology and is a 64" printer. Like the F6200, this model was built to run on a 24/7 basis. It can print at speeds of 634 square feet per hour and 1440 X 720 resolution. The refillable ink cartridges can hold up to 1.5 liters of ink and also comes with high-density black ink for stark and impactful blacks.
Like all of the printers we have gone over thus far, this one comes with a one-year limited on-site warranty from Epson. Be sure to register your model as that is the only way the warranty will be applied.
Pros:
Very good ink drying times

Very good for photo printing

A very reliable model
Cons:
Rather heavy (605 lbs)

Costs over $12,000
SureColor F9200
Lastly, we have the F9200 which boasts print speeds of 615 square feet per hour and a resolution of 1440 x 720. This printer features even larger ink cartridges at 3.0 liters per. Like the previous two models, the F2900 was also built to run day in, day out. It also comes with a 1-year limited warranty when registered.
The F9200 has a maximum printing width of 63.60 inches – something to consider depending on what kind of material you intend to print on.
Pros:
Reliable unit

Built to handle consistent and large print jobs

Users do not need to refill the cartridges often (cartridges can last for up to 2 years from printed manufacture date)

Also features high-density black ink printing
Cons:
May not operate with Mac OS

This is one of the larger models so you need a lot of room to house it

Relatively expensive

No information seems to be available on how loud it operates
Epson is certainly one of the most trusted names when it comes to digital fabric printing so any of these models would be a solid selection for your general digital fabric printing needs. For your specific needs, be sure to take into account the size of each printer and make sure you have the space to accommodate them.
Also, be sure to take advantage of the warranties offered.