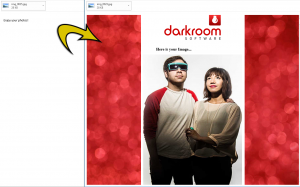 With a little bit of html coding you can go from simple to simply amazing! Add logos, links, graphics, and even embed your freshly captured images. We have included a little bit of code to help you get started.
There are a few things to keep in mind;
Any image embedded in an email must be hosted on a web server.
Embedded images must be downloaded and some people have this feature disabled by default.
html coding may require help from a web developer
If you plan to embed the photo booth image you will need to instantly upload the image to your web server.
sample html:
<body background="http://www.darkroomsoftware.com/tnt/bg2.jpg" >
<table bgcolor="FFFFFF" align="center">
<tr>
<td>
<p style="text-align: center;"><img src="https://www.darkroomsoftware.com/tnt/DRS-logo-2015.png" alt="alt_text" width="600" height="203" border="0" /></p>
<h2 style="text-align: center;">Here is your Image... &nbsp; &nbsp; &nbsp; &nbsp; &nbsp; &nbsp; &nbsp; &nbsp; &nbsp; &nbsp; &nbsp; &nbsp; &nbsp; &nbsp; &nbsp; &nbsp; &nbsp; &nbsp; &nbsp;</h2>
<p style="text-align: center;"><img src="https://www.darkroomsoftware.com/tnt/gallery/event/IMG_2384.jpg" alt="alt_text" width="600" height="794" border="0" /></p>
<p style="text-align: center;">Thanks for stopping by our photobooth. <br />We have attached a high resolution version of this image. Fell Free to use your image how ever you would like. <br />Visit us at <a href="darkroomsoftware.com">darkroomsoftware.com</a></p>
<p style="text-align: center;">Be sure to like us on Facebook to keep up with special offers and contests. <br />Please keep us in mind the next time you would like to add a little wow factor to your next event.</p>
<p style="text-align: center;"><img src="https://www.darkroomsoftware.com/tnt/fblike.png" alt="alt_text" width="600" height="86" border="0" /></p>
<p style="text-align: center;">&nbsp;</p>
<p style="text-align: center;">Please feel free to contact us M-F 8-5 CST.<br /> mail@darkroomsoftware.com | Ph (800)517-4522 Ext.2</p>
</td>
</tr>
</table>
</body>
Helpful tools:
FTP uploader: https://filezilla-project.org/
Html Editor: https://wordhtml.com/