One of the perks of my job is that I get to play with all the new printers and papers on a daily basis.  So, when my sample of Epson's new Legacy Platine Paper arrived, I was giddy with excitement.  As a painter, watercolorist, scratchboard artist, and printer, I like to have a wide variety of papers available to display each print to the best possible advantage.  I think of them as weapons in my arsenal.   There's no question that the paper a print is reproduced on can go a long way towards creating a connection with a customer, which hopefully leads to a sale.  Customers want a paper that feels high quality in their hand, with a good weight, beautiful surface, and no surface flaws.  (Hopefully the image helps a little bit, too… artist humor here.)  If a customer is dropping money on a reproduction, they want to feel that their hard earned dollars are going towards not only a meaningful item to enhance their surroundings but also a high quality piece of artwork that will stand the test of time. And as the artist, I want to be able to reassure my customers that their print will continue to provide enjoyment for many, many years and maintain or hopefully increase in value.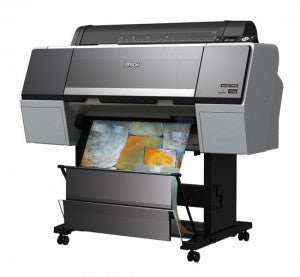 Our new Epson P7000 has been in the demo room for a couple of months now, and she's been behaving beautifully.  No clogs, no gaps in the nozzle check print out, no ghosting, no ink drips.  Absolutely no complaints at all from us.  It's delivered the same high quality print jobs I've come to expect on Exhibition Canvas Satin, Epson Cold Press Paper, and the perennial photographer's favorite, Epson Premium Luster.  I loaded the Epson Legacy Platine roll, selected a favorite black and white image with lots of tonality and contrast, and hit print.
Wow.  Let me repeat that for emphasis.  W O W.  The combination of the Legacy Platine Paper and P7000 outdid itself, printing the same image I've run before and kicking it up by a factor of ten.  The deep blacks are drowning deep, the highlights silvery, shimmery grey, the contrasty areas sharp as a knife, and the whites dazzling.  I liked this image before, but now I LOVE it.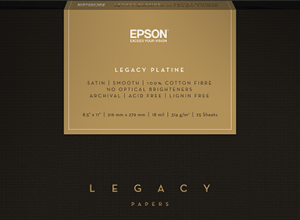 Epson's new Legacy Platine is going on my short list of recommended papers, and I'm eagerly awaiting the opportunity to dig into the other papers in the Legacy line – the Legacy Baryta, Legacy Fibre, and (really looking forward to this one with a new watercolor image) Legacy Etching.
Have you tried the new Legacy papers yet?  Do you have a favorite?  If not, what are you waiting for? Epson Legacy Paper sample packs are now available.
Epson is currently running a rebate offer for a rebate on the cost of one roll when you buy three rolls of Legacy paper. There's no better time to give the Legacy papers a try.
Happy printing!
Jo at Imaging Spectrum