Updated March 15, 2016: now available for additional DNP Printers.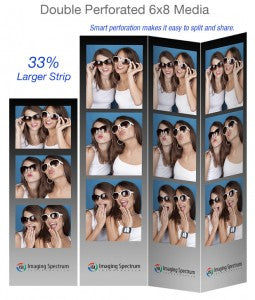 Two years in development – perforated 6×8 tear and share media is now available exclusively from Imaging Spectrum for your DNP DS40, DS620, DSRX1 or Brava 21 photo printers.
What is Tear and Share?
Imagine a 6×8 print with two vertical perforations. Simply fold along the perforation and the media pulls apart to create 3 beautiful 2×8 photo strips. The 2×8 strip is 33% bigger than a 2×6, is more old school photo booth traditional, provides more real estate for logos, text or marketing messages and just looks very cool. We love how the 4 up looks – classy! 3 strips create new options like keeping one strip for the bride or memory book or creating a tear off coupon for a retail activation or a big marketing message for a corporate activation.
What is the cost difference?
The 6×8 tear and share media is $0.30 per print vs. $0.14 for a 4×6 for the DS40 and $0.36 per print vs. $0.16 for the Brava 21. While it's a little more expensive it is a great opportunity to up-sell your clients with something new that they haven't seen before.
How do you design for a 2×8 photo strip?
The beauty of the design is that you are simply printing a 6×8 (that happens to have two perforations). With Darkroom Booth, Core or Pro software it is easy to design a 6×8 print template that will result in 3 2×8 strips. We are offering a few free, easily customized templates to get you started that will work in any Darkroom Software product. Click here to download the free 6×8 templates (click here for video tutorial on how to install templates in Darkroom Booth). We also have a selection of themed 6×8 print templates available at Darkroom Templates.
Learn more or buy perforated Tear and Share media here…
Perforated 6×8 Paper for Brava 21
Perforated 6×8 Paper for DS40
Perforated 6×8 Paper for DS620
Perforated 6×8 Paper for DSRX1
If you have any question contact your Imaging Spectrum sales rep today at 800-342-9294