Epson SureColor P700 13" & P900 17" printers, not an upgrade exactly, but advanced technology!
This article was updated September 21, 2020.
Well, Epson is at it again, breaking ground with new printing technology that not only improves their current line of printers but keeps establishing themselves as the leader in the photo and fine art industry. This time, Epson has now introduced the new SureColor P700 13" and P900 17" photo printers, which replace the current P600 and P800 models. But it just doesn't replace these models at the same basic level as we saw with the 3880 moving to the P800, this is in the territory of a complete makeover with all the bells and whistles!
Epson takes the features seen in the new P9570 44" and P7570 24" printers and brings it into a more compact design at the convenience of a desktop printer with the P700 and P900 printers. So, what are the improvements and upgr..I mean "advanced technologies" over the P600 and P800 printers?
All New UltraChrome® PRO10 Inks with Violet
Yes, a wider color gamut and the added violet helps achieve vibrancy in blues and purples to produce richer colors (up to 6% wider than P600/P800).
Easy to use
The P900 has a 4.3″ customizable touchscreen (2.7" with the P700) for easier menu navigation, a wireless connectivity and now feature a very cool, interior LED light so you can line up your prints and watch them in action!
No Photo and Matte Black ink switching 
This is a winner in most people's books, but having dedicated nozzles for both black ink types helps keep print flows going, reduces ink waste.
Easy printing from smart devices
How about that? You can print color-managed files directly from your iOS® device using an easy-to-use interface, it's the first full color system that can do that from an iPhone or iPad.
New Carbon Black Driver Technology
All-new Carbon Black Driver mode which improves black density up to a 11% higher DMAX. Used primarily for glossy/luster/metallic prints to reduce bronzing and gloss differential.
MicroPiezo AMC Print Head  
Has a variable size droplet as small at 1.5 pl, ink repelling coating reduces the chance of a nozzle clog.
Advanced Media Handling  
Has a 30 sheet capacity input tray from the top, 20 sheet capacity output tray, no more back tray input. The single-sheet front loading is for thick media and poster board applications supporting media up to 1.5mm thick.
Rear Roll Media Feed  
The P700 will have a included rear roll that tucks inside the printer while that will be an optional adapter for the P900 – ideal for roll printing up to 10 feet long.
Improved Software  
Epson Media Installer helps download and update ICC media profiles that works in a unified setting with the printers.
Whew.  That is a lot of good stuff.   Other things to point out is the ink capacity of the P700 will carry 25ml cartridges, while the P900 will now have smaller, but higher capacity 50ml cartridges.   Plus please note that both printers will not have an automated cutter, you will have do that manually.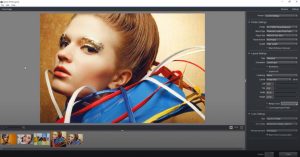 Another worthy new thing to check out is the Epson Print Layout. This is a streamline print workflow system that can be used as an easier interface on all devices to color manage, provide full ICC profile support, live previews and create customized gallery-wrapped canvas prints by choosing multiple frame and border options. This can now be used with all the P-series printers except for the P10000/P20000.
With the new SureColor P700 and P900 printers, you can expect the industry-leading print permanence (200 years for color, 400 years B&W), ratings in testing by Wilhelm Imaging Research, Inc. But more importantly, brilliant color and a photographic print that defines the true art of photography from Epson's outstanding Piezo printhead technology.
Times have changed for sure, but you can always count on Epson's dedication to make sure to have the best and most advanced photo and fine art printers out there! And the new P700 and P900 printers continue to carry that message forward. 
The Epson SureColor P700 13" printer starting price $799 MSRP and set to ship October 2020.
The Epson SureColor P900 17" printer starting price is $1,295 MSRP and set to ship October 2020.
---
If you have any questions or would like to get on the list for a pre-order, please call an inkjet specialist at Imaging Spectrum at 214-342-9290 or inkjet@imagingspectrum.com. Happy Printing!