Top 10 Reasons to buy Refurbished Printers from Imaging Spectrum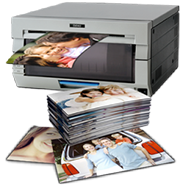 We have been offering refurbished photo printers to our customers for many years. Refurbished printers offer all the quality of a new printer at a fraction of the cost. Here are a few of the best reasons to buy a refurbished printer from Imaging Spectrum.
Reliable Source. We source photo printers from large national retailers. The benefit of this is that the printers have not been moved much, if at all. Additionally, large retailers typically are provided with a service contract so the printers have been regularly serviced by the manufacturer.
Trained Staff. The Imaging Spectrum refurbishing team has been trained by the manufacturers on how to service, repair, refurbish and pack dye-sub printers.

High duty. The printers we refurbish and sell are professional grade, high-volume printers designed to produce tens of thousands of prints.
Experience. We have been refurbishing printers since 2003 (anyone remember the Mitsubishi CP8000?). Since then our team has refurbished thousands of printers.
Testing. All machines are thoroughly bench tested. We repair or replace worn parts, update firmware and thoroughly clean the entire printer.
Packaging. We design custom boxes and foam for packaging and shipping the photo printers. The packaging is designed to withstand the torment that our friends at UPS and FedEx put packages through.

Warranty. We provide a warranty with the printer (at least 90 days). This is our warranty, not a third party so you can buy with confidence.
Tech Support. We provide tech support on the printer to get you up and running.
Supplies. We stock a deep inventory of photo printer supplies and provide free same day shipping. We also carry productivity software and ancillary products that you need to be successful in your printing business.
And the number 1 reason to buy refurbished photo printers from Imaging Spectrum…
Save Money! Refurbished printers generally cost 30% to 60% less than a new unit. Quite often, you can buy 2 refurbished photo printers for the price of a new one – that way you have a back-up.
Right now at Imaging Spectrum we have the following refurbished printers available:
DNP DS-40 2×6/4×6/5×7/6×8 Photo Printer – Only $695
DNP DS-80 8×10/8×12 Photo Printer – Only $795
Shinko S1245 8×10/8×12 Photo Printer – Only $295
Although it is dated, this video will give you an overview of our refurbishing process.
If you have any questions or need any additional information please contact us at 800-342-9294 or email@imagingspectrum.com