This past week Imaging Spectrum and Darkroom Software helped sponsor the inaugural Photo Booth Expo in Las Vegas, Nevada. For years this unique and diverse segment of the event imaging industry has been asking for a national expo and it finally happened. A big thank you to show producer Rob Savickis for being the first to step up, rally industry leaders, and make it happen in a very big way. This show was the first of its kind here in the U.S. where the focus was on state of the art technology and business as it relates to the digital booth event experience.
The Photo Booth Expo attracted a wide variety of photo booth and top event professionals from all over the world. According to Rob Savickis, there were over 1,500 attendees from twenty countries and more than 80 exhibitors. The main lecture hall sat 600 and were filled for nearly every presentation. These are impressive numbers for a first-time event of its kind.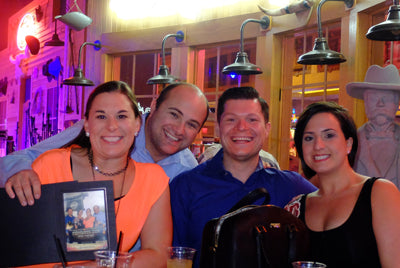 The energy at the show was epic, as were the social events after show hours. Many of the presentations in the main lecture hall, and a number of Master Classes, had standing room only crowds all hungry for information. At least one prop manufacturer completely sold out of merchandise and a number of booth builders reported being very happy with sales from the show. The general consensus from attendees is it was well worth the effort and they are looking forward to attending again next year.
People left the show wanting more and organizers will be working to build even more relevant content into next year's program. Although the presentations were inspirational and informative, they were heavy on the technical side. It was evident when speaking with attendees that there could be more programs related to the business and marketing side of the booth industry.
There are so many people to thank for their hard work and contributions to make this expo happen. However, I want to close this recap with reflections from two key contributors that had a significant role in the success of the Expo.
Cherie Irwin had a selfless commitment to make this work from the beginning. Her contributions were nothing short of amazing: "After three long months of planning, I can honestly say that all of the time and effort that I spent helping to produce the Photo Booth Expo was well worth it. Beyond the learning opportunities and seeing some of the latest and greatest products and software being produced specifically for our market sector, something much bigger happened for me. For the last 8 years, I've been meeting and networking with people from all over the world through the forum at PhotoBoothTalk.com and various Facebook groups like Photo Booth Network. It was truly a surreal experience to see everyone come together and finally meet those people face to face, the same people that I've been calling my friends for so long. It really solidified the bonds that I have made both in business partnerships and friendships. It was also amazing to me that every time I entered a room, someone called out my name, like I had just entered an episode of Cheers! Without a doubt, I'll be back next year. It is an event that I will not miss"
Dave Stephenson was one of the major contributors, with social media influence from his Photo Booth Network Facebook page: "This was the first show and something to build upon for the future. It was a place to learn and share information to help others grow their business. It was important to listen to what people wanted. Now that the platform is built, we have to take this information and build upon it to make it even better".
Imaging Spectrum and Darkroom Software enjoyed meeting the attendees at the show and are grateful for the opportunity to support their efforts. We consider it an honor and privilege to be a part of something so unique, and in some respects historical, in the photo booth industry. Look for more updates on the progress of next year's show in future issues of our newsletter.