The Brava 21 Photo Printer (Oh yeah, and it prints photo-quality stickers too!)
UPDATE July 10, 2014: NEW LOW PRICE $645!
Good through July 31, 2014
Have you seen or heard about the Brava 21 Photo Sticker Printer? We introduced this printer in March at WPPI and it has quickly become one of our best selling printers. The interesting thing about the Brava 21 that many people miss is that first and foremost this is a photo printer; with the added bonus that you can easily switch the media and print photo quality sticker backed prints. The Brava 21 is built on the same thermal dye-sublimation technology as other leading photo printers on the market today. So if you're in the market for a photo printer, whether it's for on-site event printing, studio work, signage and POS, or photo booth, why not add the capability of printing photos or photo stickers?
Compare the Brava 21 to other leading quick photo printers on the market…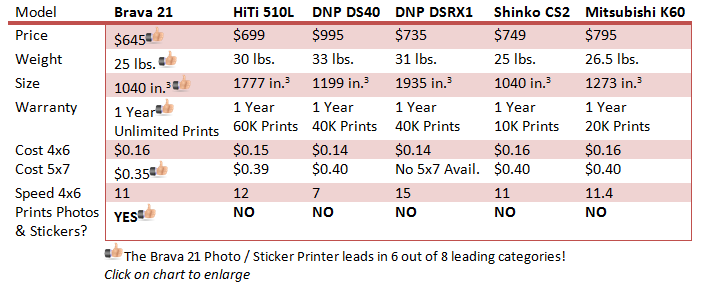 Read more about the Brava 21 from Imaging Spectrum…
Ready to buy? Click here
Questions? Our experts are here to help – give us a call at 800-342-9294 or send us an email today.