Our support team here at Imaging Spectrum has taken many calls from customers encountering a paper error with their Sony UP-DR80 Printer. The following is a short description of the problem and the easy fix solution.
Even though Sony only sells 8″ paper for the UP-DR80 in the U.S., there is a paper size setting on the paper spool (also refereed to as the paper holder). The paper size selector is on the blue spool. Here is the problem: when putting a new roll of paper on the spool, it is very easy to inadvertently change the setting. If the setting is changed the printer will respond with a  "unknown paper size" or "incorrect paper size" error. The solution is to simply change the setting back to 8″. See the picture below.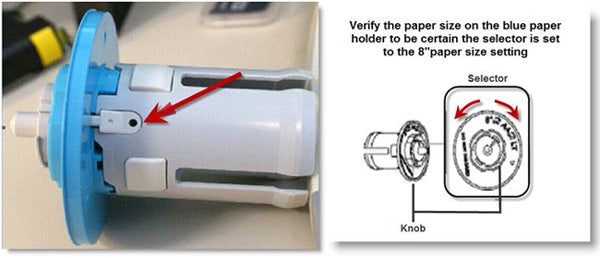 As always, if you have any questions or need any assistance please call us at 800-342-9294 or send email to email@imagingspectrum.com
Thanks for reading!
Eric
Did you enjoy this post? Why not leave a comment below and continue the conversation, or subscribe to my feed and get articles like this delivered automatically to your feed reader.