If you're a small or medium-sized printing business, you'll benefit and be able to grow your company by being able to print on multiple types of products. The more items you can print, the greater the value you provide to your customers.
In this article, we look at the two main ways you can print on garments, Dye Sublimation and Direct to Garment, and list their pros, cons, and which one is best suited for the smaller entrepreneur.
So, whether you've just started a t-shirt business, or are ramping up, read on to find out how you can improve your sales and make happier customers.  
Direct to Garment Printing: What is It?
Next to screen printing, Direct to Garment Printing (DTG) is one of the most popular ways garment printers have to imprint images onto t-shirts and other items.  While screen printing is old technology and involves pushing ink through a mesh screen onto the garment, DTG is the new kid on the block and is much like using an inkjet printer to print on paper, except you're printing straight onto the shirt using special water-based inks that absorb into the fabric.  
How Does DTG Printing Work?
The first thing to remember is that DTG isn't like those cheap iron-on transfers you had as a kid, which would fade and crack after one cycle through the washer/dryer. DTG printing uses an inkjet printer such as the Epson SureColor F2100. 
The combination of printers like the Epson and the special water-based inks allow for colorful, detailed designs to be printed right on the shirt — designs that hold up through repeated washings and look great for years.
What sets DTG printing apart from screen printing, other than the technology, is the detail and color you can get from a DTG print versus a screen print. While you can get beautiful art from a screen printer, it's laborious and expensive, and you have to print a lot of shirts for it to be economical.
With DTG printers, you can print images with over 16 million colors directly onto the shirt with one pass. Also, with pictures printed via the screen printing method, the t-shirts must pass through a high heat unit to cure the ink, whereas the ink from a DTG print dries almost instantly.  
What are the Benefits of DTG Printing?
As mentioned above: You can print gorgeous images onto shirts, sweatshirts, or other fabric items with a single pass, and this ability allows you to do small print runs at an affordable price.
For complex, colorful images, most screen printers require a minimum order of 100 shirts or more because of the cost and time involved in creating the artwork, burning the screens, and setting up the press.
You can get stunning images from a simple DTG printer in minutes that would take hours of setup and prep to print your first shirt if you went the screen print route. For the small business owner, having the ability to produce high quality, stunning artwork, quickly, at a low price is an excellent value to the customer.
DTG printing is perfect for your business if you want the ability to create stunning artwork for customers ordering in smaller batches, such as under 20 shirts.
When you get into large orders, DTG printing isn't as cost-effective as other methods such as screen printing, which can utilize large, automatic presses that can pump out multiple shirts in a run.  
Dye Sublimation: What is it?
Now that we've looked at DTG printing let's turn our attention to Dye Sublimation or called Dye Sub. Sublimation printing is the process in which an image is printed onto special paper, and then it's transferred onto the garment.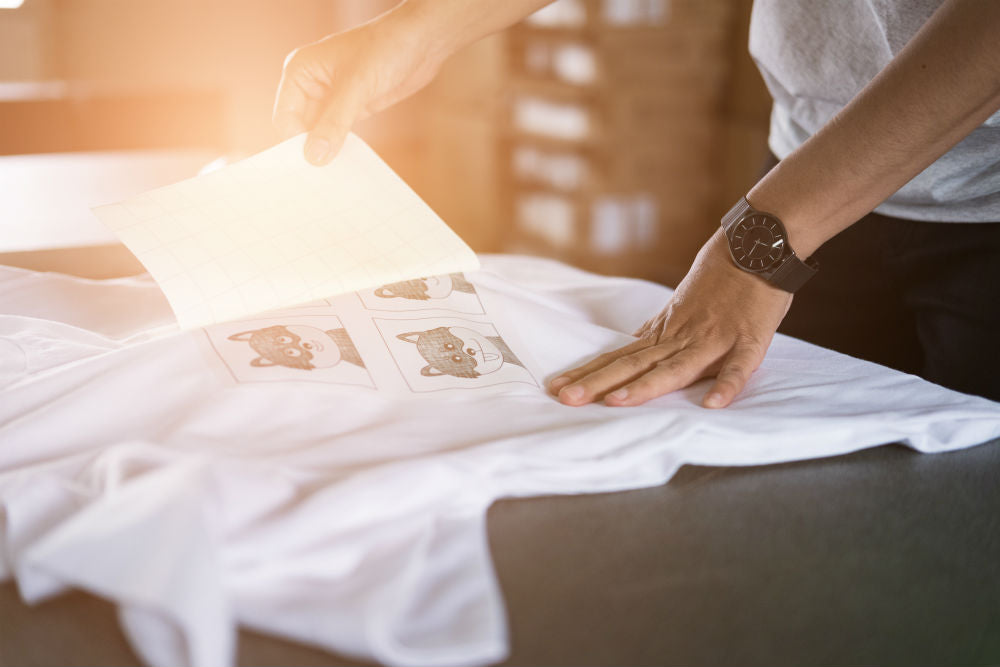 How Does Dye Sublimation Work?
The word sublimation means that it's a chemical process in which a solid becomes a gas by bypassing the liquid state. Dye-sublimation printing works much like DTG printing in that you use a special digital printer to print the images onto the transfer paper, and then you place the paper into a heat press onto the garment which turns the solid ink into a gas, which penetrates the fibers of the fabric.
Once the heat is removed, the ink becomes a solid again and becomes 'locked' into the fibers.  
What are the Benefits of Sublimation Printing?
One of the most significant advantages of sublimation printing is that it allows for continuous tone printing, which means you won't notice the transition from one color to another. 
So, If you have designs that involve photography and you want the image on the shirt to best match the photo, sublimation is the way to go.
While:
DTG printing with inkjet also produces colorful images, it can't match the smooth tones of sublimation.
Another advantage of sublimation printing is the longevity of the print. Printed dyes don't fade quickly, and are embedded into the fibers, so your image will stand up to repeated washings and look great for years, which will please your customers.
Similar to DTG printing, sublimation printing is cost-effective if you want to do small print runs of under 20 shirts.
Where sublimation printing falls behind DTG printing is that it's a slower process because you have to print the image onto the transfer paper, and then put it onto the shirt.
Dye sublimation is perfect for your business if you want to take the quality of the designs and the final product up a notch over DTG printing. Although it's a longer process, the customer will be pleased with the result and how long the designs hold up.  
As you can see, both DTG and Dye Sublimation printing is ideal for the small and medium-sized t-shirt printing business. The technology to get into both types of printing is affordable, and you can start making good money by offering a higher quality product than what many screen printers can put out. 
Also, the benefit of being able to offer high-quality prints at low print runs is cost-effective for both you and your customers.
If you're looking to get into either type of printing, it's advised that you check out the Epson F-Series printers for best results.
Ready to set yourself up for success?
HOW TO START A T-SHIRT PRINTING BUSINESS CHECKLIST