For those who have been in the event markets over the years, you will remember the iconic name "SnapLab". When this product first hit the market many years ago it was an overnight success. After a brief time out of the market, it was finally updated by DNP and brought back to life with more features and benefits than its predecessor.
The DNP SnapLab+ SL620A Compact Kiosk System combines a high speed printer with a durable 10.1″ high resolution touchscreen monitor allowing users to access these robust features:
Edit photo, add borders and text
Create photobooks
Print from Compact Flash, SD, Micro SD, Memory Stick, MS Micro, xD, and USB port
Print from Apple and Android smartphones via wireless or cable
Ability to connect two (2) DS620A printers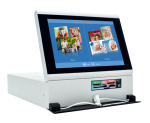 Want to turn your existing DNP DS620A printer into a SnapLab+ kiosk? You can purchase the SnapLab+ SL620A Kiosk and Order Terminal alone as an addon to your DS620A.
We've tested the SnapLab+ in house and were impressed with the ease of use and multiple cell phone connectors.
---
DNP SnapLab Overview Video
---