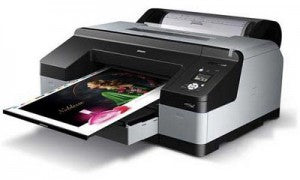 The new Epson Stylus Pro 4900 Printer is a runaway best seller and with Epson's generous $500 mail-in rebate it is a great value too. Unfortunately, the 4900 is hard to find right now because Epson is in a backorder situation. The good news is that Epson has changed the terms of their $500 mail-in rebate extending the "claim window". You still need to make your purchase by March 31, however…
Now, any SP 4900 purchased between January 1, 2011 and March 31, 2011, but not yet delivered due to backorder status, can still have a mail-in rebate coupon approved after a printer delivery thru April 30, 2011. Rebate claims for this criteria can be submitted until May 31, 2001. All other normal terms and conditions apply including dated proof of purchase.
You can read the official release here.
Download the rebate form here.
More product and ordering information on the Epson Stylus Pro 4900 here.
If you have any questions about the 4900 or any other photographic printer please don't hesitate to contact one of our knowledgeable technical sales reps today by calling 800-342-9294 or shoot us an email and we'll get right back to you.