With printer availability being difficult at the beginning of 2022, it's nice to have the option of a really good printer from a big name in photography, the Fujifilm ASK-300.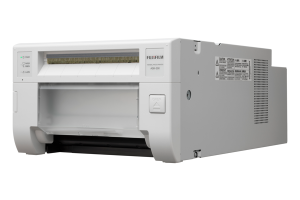 Although not a new printer, it has been out for a few years, but we have plenty of them in stock right now for your event photography and photo booth needs. 
See this printer at Imaging Spectrum
The ASK-300 features Fujifilm's superior image quality. Fujifilm's proprietary image processing technology, Image Intelligence, reproduces beautiful images as close as possible to the way the eye sees them. In High-quality mode it enables a sharper depiction of letters, narrow lines all while realizing high-contrast and deeply refined images more naturally.
With 4×6 media you can print 4×6 or 2-2×6 prints.  With the 6×8 media you can do 6×8 or 2-4×6 prints. 
Specifications
Print Speed
4×6 ~12.3 seconds
6×8 ~21.4 seconds
Media size per roll
Cost per sheet:
2-2×6 or 4×6: 13¢
6×8: 32¢
Drivers
Windows – Windows XP/Windows Vista/Windows 7- Windows 8-8.1/Windows 10            
Macintosh® MacOS – 10.14 (Mojave)
Weight
We are here to answer your questions. Ask about this printer, place an order, talk about ways to grow your business, or just tell us what's new with you, 214-342-9290