Groundbreaking 64″ Resin Ink Signage Printers from Epson
Epson has broken down the barrier again and is running freely ahead of the competition.  This time, we enter the realm of the Signage World to introduce the new Epson SureColor R-series Resin Printers that will definitely create waves.  These 64" Roll-to-Roll signage printers feature breakthrough resin inks that will offer extreme versatility to tackle any print job and outdo all Latex-based printers on the market.


---
Resin Ink
The key to this printer is Epson's specially formulated resin-based inks that offer immediate lamination right off the printer, very high scratch resistant results, and consistent, reliable color on each print job at a low total cost of ownership.   
The Epson SureColor R-series printers use vibrant 6-color inks plus optimizer in a bulk 1.5L ink set at 15.5¢ per ml with the R5070 model. A more cost-efficient option is the R5070L model which features dual 1.5L bulk ink packs at 12.5¢ per ml. 

---
Built for Performance
These printers are designed to keep up with higher demand print jobs with repeat performances of color consistency on several signage applications such as wallpapers, fabrics, uncoated papers, POP, floor graphics, vinyl banners, and much more.  As soon as the print is done, it is ready to laminate and out the door, no waiting for it to off-gas.  And the R-Series resin inks are odorless, low-VOC and Green Guard certified making it very environmentally friendly.  This is the total package for what every sign shop needs!
---
Advantages of Epson R-Series
What are the advantages of the Epson R5070 over the equivalent HP Latex 700 printer? 
More consistency in color through the droplets of Epson's latest generation PrecisionCore TFP printhead, great for repeat jobs, brand colors
Better overall total cost of ownership with the user-replaceable printhead program. When owning a R5070 printer and registering with Epson's new Cloud Solution PORT, a replaceable printhead cost is $695 compared to HP Latex 700 8qty replaceable printheads at $170 each ($1,360!).   No special tools are required, users can perform this task very easily
More stability throughout with the pre, platen and post heaters to promote even drying and reliable feeding which ensures accurate lengths

---
What are the advantages of the Epson R5070 Resin printer over Eco-Solvent Printers?
Immediate lamination, instantly dry prints – no need to wait for off-gas time periods
Odorless inks, replaceable printhead program
More cost efficient in inks, production speeds
There is still a place for the well-known and proven Eco-Solvent printers.  For instance, the Epson S80600 is still the best overall printer choice in jobs requiring critical color output involving Pantone Color Matching or fine art gallery printing.  But anything the Eco-Solvent printers can do, the R5070 can achieve as well.
---
New Epson PORT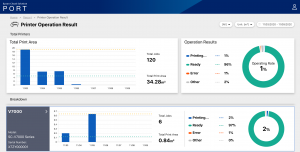 In addition to excellent performance and color results from the Epson SureColor R5070, there are technical advantages in place to keep pace with today's quick need for information.   This is all done through the already mentioned Epson Cloud Solution PORT which provides a remote monitoring system for customers to view performance data, track production rates, print usage and other key components to keep workflow simple and efficient.   And combined with the proprietary Epson Edge Print RIP software for layout, easy tiling, spot color matching, an Adobe Postscript 3 engine and a custom color library support, you have everything needed at your fingertips ready to go! Learn more about Epson PORT.
---
If you are a current sign shop owner seeking a new print solution or someone looking to get into signage printing, the Epson R5070 Resin printer is your answer and will give you an edge over the competition.
Want to see the Epson R5070 in action?  At Imaging Spectrum, we can offer up a customized virtual demo for this printer or if you are in the DFW area, we would be honored to set up a personalized demo at our showroom in Plano, Texas.  Please call an inkjet specialist at 214-342-9290 to get more information on how to schedule or if you have any questions.