"It really looks like a record, it was a hit!"
We would like to introduce you to Stefanie Yoder Webster, a creative pro photographer customer and long-time supporter of Neal McCoy's East Texas Angel Network.
From Stefanie:
I've been a professional photographer for 15 years. I have a portrait studio in Longview, Texas. I started out photographing barrel racing events for Martha Josey in Karnack, Texas. Look her up, she's in many Hall of Fames. I shoot a lot of newborns, families and high school seniors along with pet portraits. Mostly dogs, I just love it!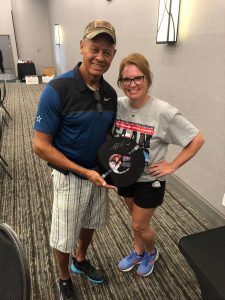 I've been photographing Neal McCoy's East Texas Angel Network Benefit for 10 years now. It's a real blessing and I love all the "angels" his charity helps, they are precious! ETAN raises money for families with children of all kinds of illnesses to help pay their secondary expenses. It's truly a great cause and I am honored to be a part of it. I shoot the golf tournament, sponsor dinner, meet and greet with the angels, and the concert every year.
This year I wanted to donate a metal print to the silent auction. So, I purchased a digital file of a record. I then inserted an image I had taken of Neal last year, added his accomplishments, and bam! It looks fantastic on the Chromoluxe circle photo panel. It really looks like a record! It was a hit! lol. Neal signed it and we auctioned it off.
This would not have been possible if it wasn't for Laura at Imaging Spectrum! I totally messed up the last 11″ I had. I frantically called Laura to see if she could get one to me. FedEx was there when I called, she rushed down there and got it out to me so I could have it the next day! I am forever grateful!
I've been doing business with Imaging Spectrum for 11 years. Fabulous customer service!
---
Thank you, Stefanie, for sharing your story and your support of ETAN. We love having you as a customer!
Want to share your story?  Send an email to marketing@imagingspectrum.com.