Video: All New Epson P Series 24 and 44 Inch Printers with Enhanced Speed and Quality
The year 2020 represents a start of a new decade and with that comes inspiring hope for what lies ahead in technology that can improve the way we do business. Epson is entering the decade with that in mind as they introduce their most advanced printer to date in wide-format printing; the Epson SureColor P7570 24" and P9570 44" printers.
| | |
| --- | --- |
| | |
Designed to take your production photo, fine art, and proofing prints to new heights, the SureColor P7570 and P9570 printers has an array of features that cater to professional inkjet users. This includes a breakthrough 12-Channel 2.6" PrecisionCore MicroTFP printhead to give you unmatched image quality at speeds up to 2.4 times faster than previous generations. And with the new industry leading UltraChrome® PRO12 Inkset firing over 9600 nozzles, you will ensure to obtain exceptional color brilliance with incredible accuracy over a wider color gamut. Added to this is the black enhanced overcoat technology, a special driver mode to improve black density and contrast, while reducing bronzing and gloss differential. This allows a higher Dmax for glossy and metallic prints without the need for expensive Chroma Optimizer inks.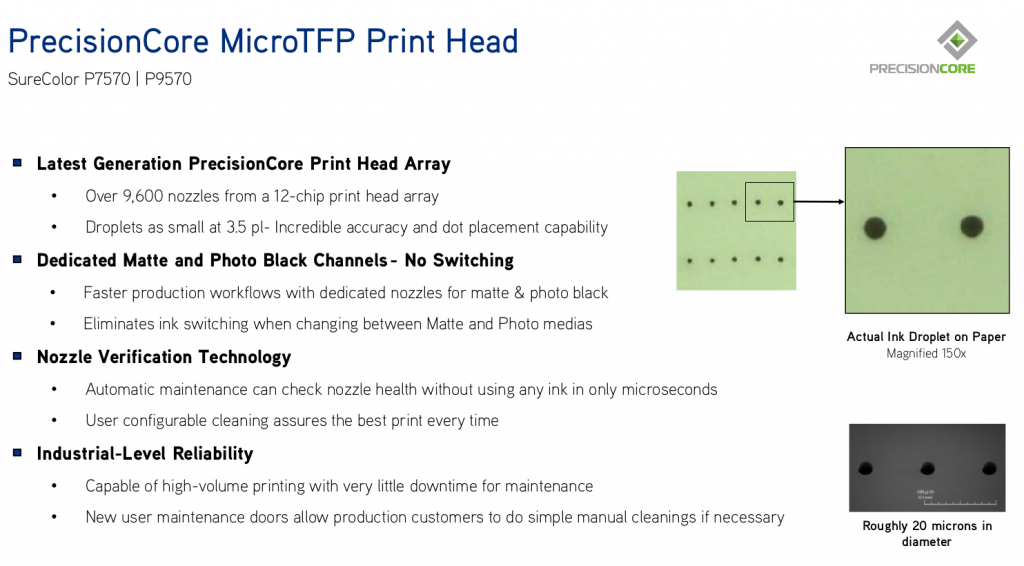 But it doesn't stop there. Epson has added some very cool features to the new SureColor P7570 and P9570 printers designed to increase production workflow and make things easier on the end user. One is a dedicated nozzle channel for the matte and photo black inks eliminating the need to switch between Matte and Photo medias and saving time, plus ink usage. Another big addition to highlight is the new maintenance doors which allow customers to do simple manual cleanings if necessary. This allows end users to pop open the hood, if you will, to perform maintenance to clean around the print head or capping station if required using standard supplies. All of this is in mind to keep things printing with less stop downs and being more productive.

On the interface side, inkjet customers will be happy to discover the SureColor P7570 and P9570 feature a larger 4.3" Control Panel that is now a touchscreen which illuminates very bright and is much easier to navigate through the many improved menu items. The new interface allows easier understanding when selecting options such as media types, decoding error messages and controlling your settings. It even has an internal light option which lights up the inside of the printer so you can observe and make sure everything is looking good with your prints, how handy is that?

On the software side, Epson has introduced the Epson Media Installer, which simplifies media management and creates an integrated path between the Print Driver and the Control Panel. This provides an easy path to customize and update media profiles when needed and keep everything up to speed. Also, the new SureColor P7570 and P9570 will have the option to add a 320GB Internal Server and Adobe PostScript Server to give you even more control of your workflow.
In a nutshell, the new Epson SureColor P7570 and P9570 is a game changer! The improved technology and solid additions to these printers over past models and current competition truly makes this the future of professional imaging!
The Epson SureColor P7570 and P9570 printers are shipping now! Please call an Epson specialist at 214-342-9290 or email inkjet@imagingspectrum.com to make sure you get yours on order or schedule an appointment to our Epson Certified Solution Center. Happy Printing!