For over 40 years, professional photographers, consumers, and retailers have trusted Fujifilm printers to provide them with top-quality dye-sub and inkjet photo printers.  There are a wide variety of Fujifilm printers to choose from. Even if you're on a tight budget, you'll likely find a great printer that meets your needs. Whether you're a business owner or a hobbyist, we have a few printer suggestions that we think are worthy of your consideration.
To aid you in your search for the ideal printer, we're going to break down four of the best Fujifilm printers, their specifications, and their features. By the end, hopefully, you'll have found a Fujifilm printer that's perfect for you.   
Things to Consider Before Deciding on a Printer
Before we get into our favorite Fujifilm printers, let's talk about a few things that you should consider before buying any printer: 
 
Functionality
Before buying a printer, the first thing you should consider is the printer's functionality. In other words, make sure that the printer you buy has all of the features that you need.  Typically, professionals prefer printers that can produce high-quality prints on a variety of different paper sizes. 
 
Print Resolution
Before buying a printer, make sure that it can produce prints with a resolution that you find satisfactory. When it comes to printers, the resolution is measured in DPI (dots per inch.)  DPI is exactly what it sounds like. It's a literal measurement of the number of dots that a printer can squeeze into one inch of paper. The higher the DPI, the higher the resolution.
Typically, a good inkjet printer will be able to produce colored prints with a DPI of 4,800 x 1,200 and black and white prints with a DPI of 600 x 600. 
 
Print Speed
When deciding on a new printer, you should always make sure that the printer's speed won't negatively affect your productivity. This factor will be more important to some than others. Those that only intend to use their new printer occasionally might not mind slow print speeds. 
However, those that intend to make back to back prints in bulk regularly will likely notice slow print speeds more. After all, when you're making hundreds of prints, that time adds up. 
 
Portability
This is another factor that some won't even need to consider. When it comes to Fujifilm printers, portability only matters if you intend to print on the go. If you don't intend to move your printer regularly, its size and portability won't matter quite as much. 
 
Fujifilm Printers, Their Stats, and Their Uses
Now that we've established which factors to consider, let's talk about a few highly-recommended Fujifilm printers. Here, we'll break down these four Fujifilm printers, their features, and their specifications.  
Fujifilm Frontier-S DX100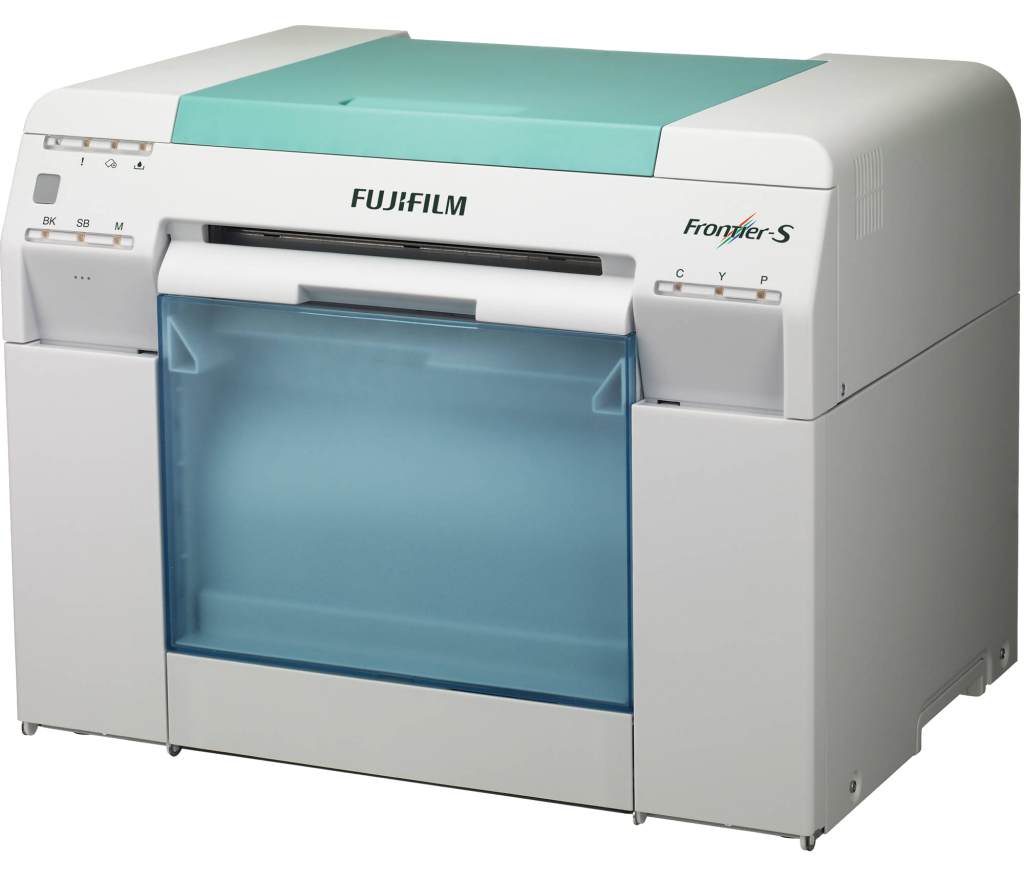 When it comes to on-the-go printers, few can rival the sheer portability and functionality offered by these Fujifilm printers. The Fujifilm Frontier-S DX100 uses proprietary VIVIDIA inks that allow it to produce vivid, high-quality prints. Plus, it only weighs 51 lbs, making it ideal for on-the-go use.  This printer is compatible with multiple paper sizes, and it's a fast-working little printer. 
Believe it or not, this little guy can produce up to 360 4" x 6" prints per hour.  This printer is ideal for kiosks, retail environments, and sports/event photography. Additionally, it'll be great for anyone that needs to produce bulk prints on the go.            
 
Fujifilm ASK-300
This printer is light, and it's extremely fast. Weighing only 26 pounds, the task of moving it from one place to another is next to effortless. Plus, the prints that it produces are extremely vivid. It even features adjustable color depth with 256 incremental settings. 
The Fujifilm ASK-300 is lightning fast! It can produce two 2" x 6" prints in only 12.3 seconds, and it can produce prints with several other paper sizes as well. This printer is made for use with gloss, making it ideal for most photographers.  
 
Fujifilm ASK-2500
If you thought the ASK-300 was impressive, just wait until you hear about the ASK-2500. This printer is even faster, and the prints that it produces are of an even higher quality. How is this possible? Well, the Fujifilm ASK-2500 uses Fujifilm's patented Fujifilm Image Intelligence. FII enhances your image quality, making your prints superior to that of the competition.
Plus: The ASK-2500's prints are 5% whiter and 20% glossier than that of the competition. This printer can even produce 4" x 6" prints in just 6.8 seconds!  The ASK-2500 isn't the smallest printer on this list, but it's 16" x 11" x 13" footprint is very small considering the amount of functionality that it offers.   
 
Fujifilm ASK-4000
With a footprint of 15" x 14" x 16", the ASK-4000 is technically larger than the ASK-2500. However, the difference in size between the two isn't drastic. This printer's footprint is actually very small considering the quality and functionality that it offers.
This Fujifilm printer can quickly produce lab-quality photos with ease. It'll only take 40 seconds to produce 8" x 10" prints.
Of course, this printer's speed is by no means the best on this list, but a 40-second print time isn't bad at all when it comes to high-quality 8" x 10" prints.  For lab-quality prints, this is one of the best Fujifilm printers around. It's fast, compact, and it's capable of producing some gorgeous prints.   
 
A Fujifilm Printer for Every User
Fujifilm truly has a printer for just about everyone, from the small business owner to the corporate fat cat. Whether you want the best printer around or a budget option capable of producing great-looking prints, Fujifilm has you covered.
Now that you understand what to consider before investing in a printer as well as the ins and outs of Fujifilm printers, hopefully, deciding on your next printer purchase has been made easier.