ChromaLuxe is Now Available at Imaging Spectrum!
You asked, and we listened! Imaging Spectrum is pleased to announce we are now a preferred vendor for ChromaLuxe. Long recognized as an industry leader in high-quality sublimation media, ChromaLuxe is a unique product that allows you to transfer photographs, graphics, and other dye sublimation printed imagery onto aluminum, steel, wood/MDF, tempered hardwood, and other paneled surfaces to create amazing art.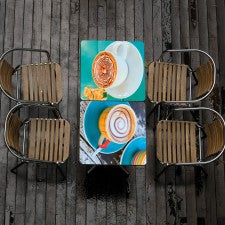 The panels are moisture and fade resistant, scratch resistant, chemical resistant, and suitable for a broad range of applications from wall art to dry erase boards to furniture design – even tabletops and custom counters!
And:
Because the dye ink is directly infused into the surface of the panel, worries of damage from scratches, scrapes, fingerprints, and fading are a thing of the past.
ChromaLuxe has been riding a popularity wave for several years as the on-trend metal photography media popular with interior designers, but their larger panels offer an array of attention-getting commercial signage options that can be incorporated into the architecture, billboard displays, signage, and environmental design.
See our ChromaLuxe Supplies at Imaging Spectrum if you're looking for a print media that's damage resistant, offers bright, saturated color with sharp detail is affordable and popular with today's minimalist/ industrial design trendsetters, you've come to the right place!
---
Curious about ChromaLuxe? Give us a call today at 214-342-9290 and let's get printing!