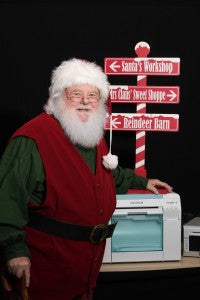 I started photographing Santa 33 years ago starting with peel apart Polaroids. Back with Polaroid Type 669, photos were $1 a piece and of course, children can freak out with the Big Guy so every a photo was taken, it would cost you money.
With digital if you are shooting spec, you can shoot several different photos and let the parents pick their favorites and their choice of package. If hired for an hourly rate gig, you can still shoot several and pick the best to print.
---
Here are a few things to consider when choosing your equipment and setup:
Technique: Using a tripod or hand-holding for Santa Photos is a matter of preference and space. If in a fixed location, a tripod may be fine. Either way will work.
Cameras: Any Canon Rebel or Nikon D5000 series and higher will work for any type of file transfer. Mirrorless cameras may have issues tethering. Check your software for import options.
Transferring photos: Tether, cards, wireless. Tethering is the fastest, reliable way to move images. Make sure you have the correct cables, backups and have USB repeaters if going more than 16'. Cards are a hassle to be bringing them back and forth to the viewing station. Have several. For wireless, something like a CamRanger works well with DSLR cameras as long as there is no signal that can interfere. Make sure you have a tethering cable and/or cards just in case for backup.
Lights: I highly recommend flash. With squirming kids, flash offers the low ISO, high shutter speed and high f-stop that are best for photo shoots. Avoid pop-up camera flash due to red-eye. I recommend either one or two Alien Bee B400 flashes on stands with either a brolly box or umbrellas.
Software: We use Darkroom Core to proof our photos. It catalogs the photos. It allows you to proof the photos, adjust with zoom and crop and put graphics like logos and text and other overlays for total customizing. It also allows you to print different sizes and packagize options.
Printers: We use the DNP 620 for 4×6, 5×7 and 6×8. For 8×10 and 8×12 we use our Fujifilm DX100 printer.
Helpful links:
---
If you have any questions regarding photo shooting for the holidays, don't hesitate to drop me a message at bill@imagingspectrum.com or 214-342-9290 by phone.