Updated August 19, 2019
---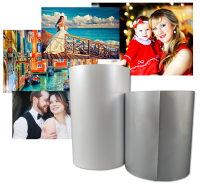 Having spent 20 years in the old time photo industry, I really like a nice old time finish. Needless to say, I was blown away when I saw the new luxury media from DNP. The two new finishes, Metallic and Silver-Pearl are stunning. They look amazing as color, black and white and sepia photos.
Scroll down to see video from one of our customers.
The new medias are only for the DNP 620 and 820 printers and they come in single rolls of 5×7 and 6×8 for the 620 printer, and 8×12 for the 820 printer.  As of August 2019, there is now 6×8 metallic media for the DS40. They use the same driver as the current media, but do be sure to keep the ribbon and paper together. Please follow this article for ICC profiles with the Luxury media:  https://imagingspectrum.com/blog/2019/04/dnp-icc-profiles-for-silver-and-metallic-luxury-media
Both medias have rich blacks, excellent sharpness, depth and clarity. They both have a metallic look that few other medias can offer, and the images almost look like they are coming off the page. The Metallic media paper has a silver-pewter finish that really pops when there is no part of the image in that area of the print, especially a white area with black and white photos. You can see the paper color through the white and it really shows off the metallic look. The Silver Pearl has a pearlescent finish that really glistens when light hits it. It gives great skin tones and nice soft edges for a fine art look. Use these new medias to provide the wow factor for your clients and a nice upgrade option for higher sales.
---