v3.3 was released on January 22, 2018. To download this update, visit the official DNP Support. For information about the v3.3 driver improvements, please read the DNP Snaplab v.3.3 release information

---
The latest software version of SnapLab+ SL620A / DS-Tmini is now available. To download and install this update, visit the official DNP Support for software and drivers. Key features of this software update include system improvements, Hot Folder Printing, Photo Collage, and updates to the Calendar.
---
Event Mode of operation adds a streamlined process to quickly print the selected images compared to the regular kiosk mode of operation. Note: see the newly added Hot Folder Print function of the v3.1 for even quicker printing. Several defaults can be preset for optimal results.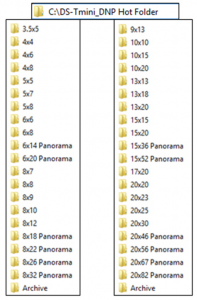 Hot Folder Printing allows instant printing as soon as a file has been dropped into its "hot" folder. Once in the hot folder, the images are automatically resized, and the printing process begins immediately. This feature is added as a built-in function within the software update and is not the same as the DNP Hot Folder Print Utility app.
Supported file types are: JPG/JPEG, TIF/TIFF PNG, and BMP. The chart shows all the possible print sizes.
Function options include:
Default quantity
Paper type
Use default borders
Partial matte
Keep photos in archive for X amount of days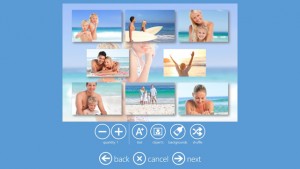 Photo Collage allows the user to select two to eight images combined onto one page for printout. The user may also add a selected background theme, or use an image as a background in addition to the plain background. These features supports standard simplex print sizes. Panorama is currently not supported
The Calendar is updated in this release. Selecting the output size and images, rearranging the images, and picking multiple types of styles for calendars have been improved and more intuitive.

Partial Matte is a new feature for DS620A and DS820A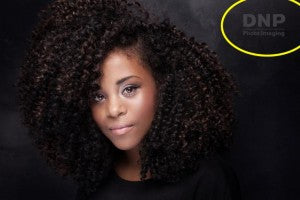 printers. It allows users to embed a graphic such as a logo or brand name on the lamination clear coat of the printed image.
Other New Features
QR Code printing
Order Release by Barcode
Automatic System Shutdown
Printer Output Color Adjustment
Printer Auto-Update
---
Updating through SnapLab Admin System
Software can also be installed through the Self-Update on the SnapLab Admin system with an internet connection. For further information, and instructions on how to get the latest software for your DNP SnapLab+ SL620A / DS-Tmini, read the software manual from DNP