It doesn't really matter how great the output is from your printer if your image fades to nothing in a few years!
Q:  How do printer manufacturers come up with "X" year lightfastness claims?
A:  One of the areas of near constant obsession by Epson inkjet engineers are the UltraChrome HD inks used in Epson's printer lines, including the new P- Series printers. After all, it doesn't really matter how great the output is from your printer if your image fades to nothing in a few years! There are a few colors in the spectrum that are considered particularly tricky to print, such as yellow, and of course, everyone is always after richer, deeper, more velvety blacks.
Lightfastness testing and rating is done by a few independent groups in the U.S. including Wilhelm Imaging Research and Aardenburg Imaging, and if you are really into the science of color gamut and technical renderings, I highly suggest visiting their sites for pages and pages of scientific jargon. Simply put, these institutes evaluate printer inks on a variety of papers and media, expose them to accelerated lighting conditions, and measure the rate of color shift and color degradation over time. That's how manufacturers can make claims like "lightfast to 200 years" and have some scientific basis to back up their claim.
Q:  Why are there different size cartridges?  Besides price, is there an advantage to one size over the others?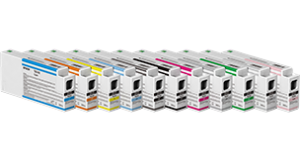 A:  Having the ability to choose larger or smaller cartridges depending on ink usage is a helpful and cost effective feature. For instance, if you only print on photographic and resin coated papers, you'll never use matte black ink. Why spend the money to buy a large ink cartridge if it's just going to sit unused in your printer? Our advice: pay attention to the individual ink cartridge levels as you print your jobs, and then order accordingly.
Q:  What's one thing you wish more people would do?
A:  Check your inks when you receive them!  While we always advocate ordering ahead of time to make sure you don't run out of ink during a critical job (or cleaning), we also recommend you take a moment to inspect your ink cartridge when you receive it. Mistakes can happen; the wrong ink can be inadvertently ordered or shipped, a cartridge can leak in shipment–and the sooner the issue is noticed, the easier it is to correct. We have a 30 day return policy at Imaging Spectrum and if you discover your ink is unusable any time after the initial 30 days, we can't guarantee a return for full credit. We'll always do our best to help our customers, but it's far easier to process a return within days rather than weeks.
What other Epson wide format printing questions would you like to see us address? Let us know by phone at 800-342-9294 or email at inkjet@imagingspectrum.com! As always, thanks for your business, and Happy Printing!