This year's Photo Booth Expo will be held March 20th-22nd, West Gate Hotel, Las Vegas, NV
The time is here! We are so excited to be a part of this epic photo booth industry event. This is the 3rd year for this one of a kind photo booth show which has grown steadily every year. Here are some impressive stats for you to ponder:
There are over 340 booth spaces, 120+ exhibitors,  exhibitors from 5 continents, attendees from 6 continents and 45 countries, and (drum roll please) over 2,500 of your colleagues.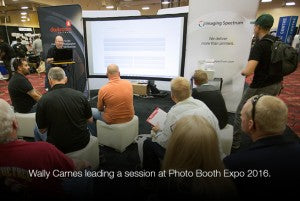 Besides all the technology, toys and eye candy, there is some serious knowledge to be gained in the classes and educational opportunities. I highly recommend getting the full expo pass to take advantage of the wealth of knowledge to be gained from some of the industry's leading professionals.
Here are some of my top pics for this year's seminars:
Tuesday March 21
11:15 — Wally Carnes
Darkroom Booth Turns 3
Do not miss this one as it is the unveiling of Darkroom Booth 3.0 and its long list of new and innovative feature introductions.
9:45 — Mark Ufland, Murray Englander, Sharon Hochdorf
Profit Picture – Strategies to Increase Profits!
This was one of my favorite picks last year and will be again this year. These industry veterans are well versed in both traditional event photography and successful photo booth operations. If you want to increase profits, this is the class for you.
Wednesday March 22
11:15 — Bill Vahrenkamp
Using the Same Equipment for Multiple Event Types.
If you are finding that your booth market is saturated and you want to venture into some other types of event businesses for incremental growth, this is your class.
Advanced Premium Workshops
Saving the best for last. Some people like to learn in a more custom and intimate environment instead of larger lecture halls. This year we have PBA University and its advanced curriculum.
If you really want to embrace Darkroom Booth at its most advanced levels or learn the true quality that your booth can produce, these are some classes that can help you gain an advantage over the competition. Product knowledge is power and knowing what true quality looks like can help separate you from the 'good enough crowd'. These classes are small, and there will be plenty of opportunity for open exchange with the instructors. You will not be disappointed.
Wally Carnes
Bill Vahrenkamp Cr. Photog.