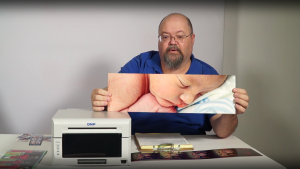 Panoramic prints are great for larger photo strips and for wide panoramic landscape photos at an affordable cost. DNP Introduces extra-large photo booth strips for the DNP DS620A printer on 6×14 and 6×20 through standard 6×8 media.
To get started with panoramic prints on the DS620A, you will need to update the firmware to 1.52 or later. Make sure to download the  DNP DS620A 1.52 firmware to start printing.
Download and install the latest DNP DS620A driver. You can find the latest official driver for the DNP DS620A and other products on our Imaging Spectrum Drivers and Software Page.
Download and install the DNP Hot Folder Print Utility.
Run the DNP hotfolder.exe application.
Set up your software to make a 6×14 or 6×20 template and have the software save the media onto the DNP Hot Folder Application folder. The media must be either 6×14 or 6×20 to print on the extra-large photo strips.
Note: The extra-large 6×14 or 6×20 panoramic prints are not available through the printer driver. It is only available through the DNP Hot Folder Print Utility.  It is also now available in the newest v3 of Darkroom Booth. 
If you have any questions, give us a call at 800-342-9294 or leave a comment.