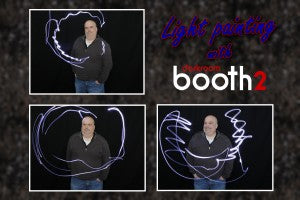 Did you know that you can create a Light Painting Photo Booth with Darkroom Booth software?
ThisĀ is a feature that has been available to Darkroom Booth users since Booth was first released, however, not many users know about light painting or how to set it up. Light painting can offer your clients a fun, interactive experience that is very different from the traditional photo booth. Check out our video below to learn more and see a demonstration.
The key to light painting is in your camera set up. In the video below, Wally Carnes, Operations Manager at Darkroom Software, walks you through the camera settings for light painting.
Need a mobile dark space for your light painting photo booth? Check out this light painting photo booth enclosure.
If you need some ideas of what to use for your light props, try searching Amazon for light wands and you'll get all kinds of results.
If you have any questions about light painting or photo booths in general please contact photobooth@imagingspectrum.com