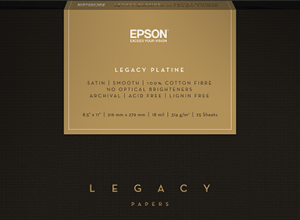 Epson has announced a new line of fine art papers for museum quality fine art reproduction and photographic printing.  I received a sample of the new papers today, and wow, am I impressed!
Speaking as a painter, printer, and artist; quality paper is critical to the success of the finished piece, both from an artistic and a collector standpoint.  The discerning fine art or photographic printer understands how much the look and feel of a paper can affect the finished image, and many of us are always on the search for a beautiful, high quality paper that we can add to our portfolio of options.
Epson's new line of Legacy Fine Art papers is, in a word, beautiful.  Made of 100% acid/ lignin free cotton fibre or alpha cellulose, these four papers set a new benchmark for quality printing in the inkjet world.
Legacy Platine:  100% cotton fibre, smooth surface, satin finish, no OBAs, 314 gsm.  A heavy paper with a wonderful satin white surface and slight texture.  This paper offer lots of pop, value and saturation with great fine detail.
Legacy Baryta:  100% Alpha cellulose, smooth surface, satin finish, 314 gsm.  Less slick and glossy than Epson Exhibition Fibre, feels a bit less "commercial".  Finally a surface that resembles highly sought after cardstock – perfect for tear sheets and prints!
Legacy Fibre:  100% cotton fibre, slightly textured, matte finish, 314 gsm, no OBAs.  Whiter and "cleaner" feeling than Epson velvet but still with a hint of "fuzzy" texture to provide some visual interest.  This paper would be an excellent choice for pastel or charcoal reproduction work.
Legacy Etching:  100% cotton fibre, textured surface, matte finish, 314 gsm, no OBAs.  This paper has a very lightly textured surface, much less than Epson's Exhibition Cold Press paper, but what I like is that it's not a stamped or mechanical looking surface.  This paper looks and feels like quality mould made stock.  While not as delicate as the Epson Exhibition Watercolor paper, I did notice that it was very easy to mark with fingerprints.  Good for lots of tonal contrasts and fine detail, a bit delicate for lots of shuffling or paper handling.
Epson's complete line of Legacy Fine Art Papers are now available.  If you have questions on these new papers or would like information on how to get a sample pack, please call Matt or me on the inkjet team at 800-342-9294 or email us at inkjet@imagingspectrum.com.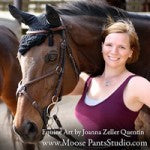 Happy printing!
Jo