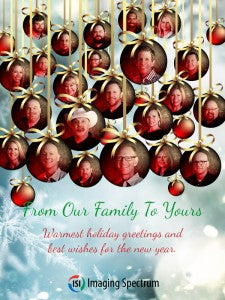 Merry Christmas and Happy New Year from Imaging Spectrum!
Our entire team joins in wishing you and yours a very Merry Christmas and a Happy and Prosperous New Year. We have enjoyed serving you this year and we appreciate your business!
Please note that our offices and warehouse will be closed on the following days:
Thursday December 24, 2015
Friday December 25, 2015 (Opening again on Monday December 28, 2015)
Thursday December 31, 2015
Friday, January 1, 2016 (Opening again on Monday January 4, 2016)
Also, please note that UPS is not guaranteeing any ground shipments. Check the UPS year-end holiday schedule for more information.