This month our customer spotlight is on a very unique and exciting photo booth business. We spoke with Lindsey Kohrt of Vintage Auto Booth, and here is her story.
Overview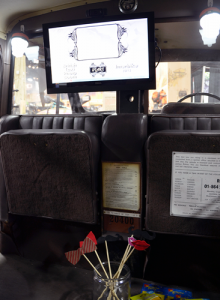 Based in Phoenix, Arizona, Vintage Auto Booth is a vintage vehicle rental service with photo booths built right inside. My husband and I started our business when we realized the large collection of vintage cars we have restored over the years were not being utilized to their full potential. We work with individuals and companies who want to add a jaw dropping fun element to their event. Our vehicles have been beautifully restored and people can't wait to climb in and have their picture taken.
First  Contact
We purchased our Brava 21 photo sticker printer and Darkroom Software from Imaging Spectrum. Their knowledgeable team helped us choose the right features and products that would enhance our unique photo booths and create an intuitive and fun experience for our customers. The printer is fast and reliable, the software is easy to use and lets us customize the experience for every event. Being able to print stickers and use a "sticker wall" is a bonus.
Running the Photo Booth
We use Darkroom Booth to add custom logos, names, or event details to the photo strips. Because our booth is sometimes used in a corporate or trade show setting, the survey feature in Darkroom Booth 2 with email collection is very valuable to our clients. The Facebook posting feature is also a popular option that customers really appreciate.
Building a Relationship
The folks at Imaging Spectrum are always available and informative. They were able to answer all of our questions and even gave helpful suggestions when we were developing our booth. We couldn't be happier with the support and technical assistance we've received from Imaging Spectrum.