We're proud of the relationships we build with our customers and love hearing that we get it right.  In a recent Mitsubishi interview for a case study, Byron Faudie had some great things to say about us…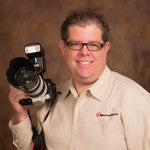 I am a shop local guy. It's small town where I live, I know the shop keepers and eat at the independent bars and restaurants. I photograph the Chamber of Commerce fundraiser, and the hospital's 5K. However, nobody in my town sells or repairs dye sub printers or paper so I have to find that same level of service elsewhere. I like small town simplicity where someone answers a phone when it rings, takes a few minutes to talk about my business, and the little things, but when people pronounce Byron correctly, I like that too.
So it was not a hard choice when I wanted a new dye sublimation printer to call Imaging Spectrum. They bring all of the power of a big company you need with the care of a small company that you want. When I called for my first Mitsubishi CP-K60DWS we talked about everything from the roll back features to the material that is at the core of the paper.
Business is booming and Imaging Spectrum was genuinely happy when I ordered a second CP-K60WS just a short time later. Part of being a great customer centric organization is making it easy to do business with your company. I have ordered paper while standing in line at Disney World; "I need 2 boxes of paper for my Mitsubishi K60 please, same address, same credit card. Thanks!" I ordered way after the published shipping deadline and it got here in record time.
A printer shipped form Texas is the same printer that is shipped from Kentucky, and the same one from California. The difference is the team that stands behind the product, offers great service, and makes it easy to do business.
Byron Faudie
eSportsPhoto.net
Thank you Byron, we look forward to a being a part of your continued success!
Read the Mitsubishi Case Study
Visit eSportsPhoto.net
Learn more about the Mitsubishi CP-K60DWS