Small Size, Big Quality, and now 3 years of Warranty protection added at no charge. Purchase the popular Sinfonia CS2 event and photobooth printer or the Sinfonia CE1 8 inch photo printer before July 31, 2014 and receive a free 3 year extended warranty.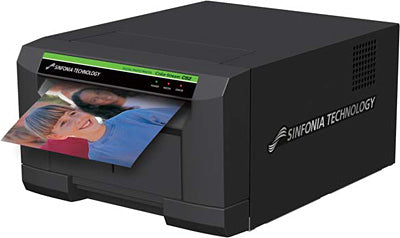 Sinfonia CS2 photo printer
Sinfonia did not sacrifice quality with the build of the CS2. The outer shell of the printer is very durable considering the weight of the printer. This is the perfect fit for photo booth designs that require a small footprint or for traveling to events where you need to set up quick. For high volume events it's easy to stack 2 or 3 CS2 printers and keep them busy with Darkroom Software. The CS2 photo printer is currently one of the best value buys in the economy class of dye-sub printers given its robust design. The CS2 will print multiple sizes including 4×6, 5×7, 6×8 and will cut 2 – 2×6 photobooth strips from a 4×6. Cost per print for the CS2 is competitive at $0.16 for a 4×6, $0.40 for a 5×7 and $0.43 for a 6×8.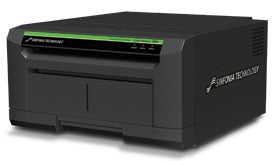 Sinfonia CE1 8 inch photo printer
One of the first things you will notice about the CE1 8 inch photo printer is it's compact size. The printer is 13″ wide, 7″ tall and 16″ in depth.  The CE1 only weighs about 30 pounds with media loaded. This printer is great for on-site printing at events where you need to produce 8×10 or 8×12 prints. You can also print a square 8×8 image. We have had some customers produce Instagram themed square prints using Darkroom Software and the CE1 photo printer. There are separate media types for 8×10 and 8×12. Once you load up the CE1 it will produce 120 8×10 prints or 100 8×12 prints. The printer is front loading and the paper and ribbon are very easy to change out. The CE1 is not the fastest horse in the barn but respectable at about 30 seconds for an 8×10 glossy print. Cost per print is competitive at $0.92 for an 8×10 and $1.05 for an 8×12.
Please contact us if you have any questions or if you would like to place an order. Our technical sales reps can put together a bundle that meets your needs and budget or choose from the printer and software bundles below.
Sinfonia CS2 Photo Printer with Free 3 Year Extended Warranty & Free Shipping – $749
Sinfonia CS2 Photo Printer with Darkroom Booth, Free 3 Year Extended Warranty & Free Shipping – $999 (Save $50)
Sinfonia CS2 Photo Printer with Darkroom Core Workflow Software, Free 3 Year Extended Warranty & Free Shipping – $1,149 (Save $95)
Sinfonia CE1 Photo Printer with Free 3 Year Extended Warranty & Free Shipping – $1,349