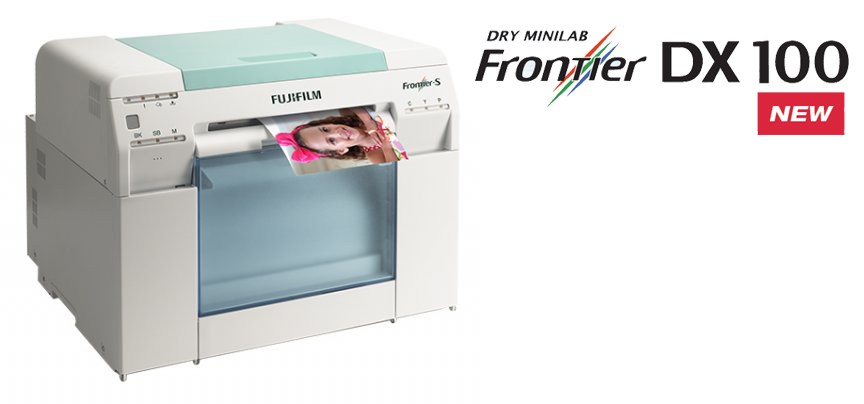 Now that our staff has had some time with the new Fujifilm Frontier DX100 DryLab Photo Printer we wanted to share some of our impressions.
There has been a "hole" in the market for years that was left by the discontinuance of the Kodak ML500 high-speed multi-head dye-sub printer. No product satisfied this niche, at least in terms of portability AND speed AND cost per print AND small footprint. That "magic mix" of valuable assets disappeared from our industry with the demise of the ML500. The DX100 brings back to the photo industry these features and benefits and more.
Fujifilm DX100 Portability
The Fujifilm DX100 weighs in at a svelte 50lbs. Small and light enough to take to high volume events.
Fujifilm DX100 Speed
360 4×6 prints per hour
120 8×10 prints per hour
Fujifilm DX100 Cost per print
4×6 = $0.144
5×7 = $0.21
6×8 = $0.288
8×10 = $0.48
Fujifilm DX100 Small Footprint
The footprint is a mere 2.13 square feet; 17 inches deep, 18 inches wide and 14 inches tall.
Other benefits from the Fujifilm DX100:
Quality: the quality of the inkjet prints from the DX100 are very nice, very professional, plus you can print on glossy photo paper or real luster photo paper (not a laminate like dye-sub printers.)
Easy maintenance: 6 high volume (200ml) ink cartridges and easy to change roll paper
Variety: the printer will produce a wide variety of packages without changing the paper (e.g. 4×8, 6×8, 8×10, 8×12…all the way up to 8″x39″).
Check out our Fujifilm Frontier DX100 Printer videos for more details: