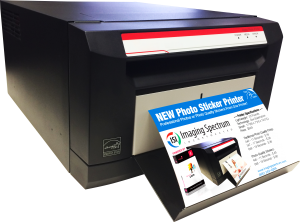 The long awaited Brava 21 photo sticker printer has landed in the Imaging Spectrum warehouse. Keep in mind this printer is "dual purpose", you can print on sticker and photo paper. Now is the time to be a "step ahead" of your competition, be the first in your area to take it to the next level with the ability to offer stickers.
Some possible opportunities for your sticker business:
Decals for Schools Sports
Locker Stickers
Helmets
Skateboards
Wine Bottles
Images on the back of cell phone cases
Memory Books
Photo booths
Senior photo products
Boards
Refrigerators
Folders
Windows
Desks
Laptops
Organization
The possibilities are endless; it just takes a little creativity that gives you the ability to "Stand out from the crowd." Questions about the Brava 21 photo sticker printer? Or questions about photo printing in general? Call and speak with one of our specialists today at 800-342-9294.