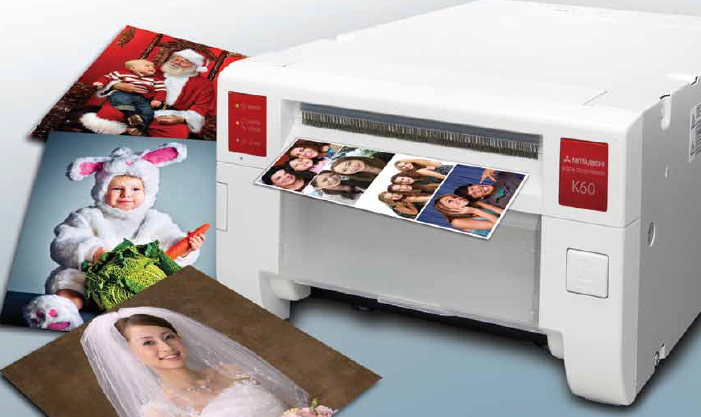 Mitsubishi recently introduced a new printer to the US market – the Mitsubishi CP-K60DW-S Photo Printer. First announced at the Photo Plus Expo in New York in October, the K60 is aimed squarely at the photo booth market. This new printer boasts a sub $800 price tag, low cost per print, front-loading convenience; it's small and compact and produces richly colored 2×6 photo booth style strips in matte or glossy – all important features for photo booth owners and operators. But wait, there is more! The CP-K60DW adds a couple of cool features that we have not seen before on a photo booth printer; features that may help you set your business apart and help you save money.
First, let's talk about saving money. The Mitsubishi CP-K60DW has a unique "re-wind" feature. Without getting too technical, basically the rewind function enables the printer to print on an unused portion of media. For example, let's say you have 6×8 media loaded in the printer and want to print only one 4×6. When you go to print the next 4×6, the printer will rewind and use the remaining ribbon. This feature enables you to offer 4×6, 6×8 and 6×6 without changing media. The feature also works with 5×7 media and 3.5×5 prints.
Another feature the CP-K60DW brings to the table is the ability to produce a square print. Can you say Instagram? Load the printer with 6×8 media and you can print a 6×6, full bleed, square print. If you are using Darkroom software, you can easily build an Instagram style layout for event photography, photo books or photo booth templates.
While it is a great photo booth printer, the Mitsubishi CP-K60DW is also suited for event photographers, or professional photographers that need high quality 4×6, 5×7, or 6×8 prints delivered quickly and economically. The K60 also comes with Mitsubishi's Express Replacement Assistance (ERA) Program, a comprehensive nationwide service that offers next business-day replacement for units that are under warranty. Optional extended warranty plans can also be purchased to get up to five years of warranty coverage total.
To see other key features of the Mitsubishi CP-K60DW visit the product page at Imaging Spectrum. Or you can read the Mitsubishi press release here.
You can preorder the Mitsubishi CP-K60DW-S now from Imaging Spectrum. Looking for photo booth software too? Order the K60 bundled with Darkroom Booth software and save.
Questions about this printer? Questions about photo booth software, event photography or printing in general? Please comment below or contact us and we'll put you in touch with one of our experts.