This month we are profiling Dave Stevenson, owner of A Time For Music & Memories. Dave has been an entertainer for over 30 years. He started his photo booth company about 2 years ago and recently migrated to Darkroom Booth photo booth software.
How long have you been in the photo booth business?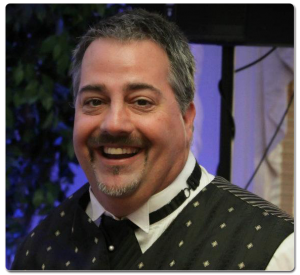 I have been an entertainer for over 30 years. I have covered the entire spectrum in the industry. I started my booth company about 2 years ago, later than most. During my first year I did 45 events. This year I have almost tripled that number. I have gone from one to 3 booths.
What other software(s) have you used in the past?
I used Breeze software up till October 2013. I have now migrated to Darkroom Booth.
What is your favorite Darkroom Booth feature(s)?
It only took about a week of working with the software and I feel that I can now create wonderful layouts. I have done training sessions with users online and in person. The best part of the software is you have all the tools built right in to the program. My customers love that I can custom create the start screen to match the strips or layouts and create the theme they are looking for. I try to have my booth blend in to the event and look like it belongs there. I want the customers to really go away with the "Wow that was fun" factor.
We notice you really seem to like the green screen functionality of Darkroom Booth. How does this impact your booth business?
I love the Green screen feature as I wanted to use it in breeze but I could not get it figured out. I was surprised how quickly I was able to learn it in Darkroom Booth. I have now added Green screen to my events and have had a lot of interest.
Find out more about Dave Stevenson's DJ and Photo Booth business:
www.facebook.com/atimeformusic

Dave also contributes to a couple of photo booth related facebook pages full of useful information and advice from experienced photo booth owners and operators. Post a question and you are sure to get a helpful answer.