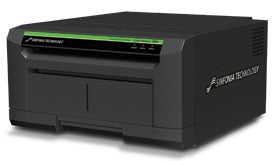 Since we have known about the Sinfonia CE1 8 inch photo printer for quite some time now, it hardly seems like an "introduction". However, this printer is now shipping and we have them in stock.
One of the first things you will notice about the CE1 is it's compact size. The printer is 13″ wide, 7″ tall and 16″ in depth.  The CE1 only weighs about 30 pounds with media loaded. This printer is great for on-site printing at events where you need to produce 8×10 or 8×12 prints. You can also print a square 8×8 image. We have had some customers produce Instagram themed square prints using Darkroom Software and the CE1 photo printer. There are separate media types for 8×10 and 8×12. Once you load up the CE1 it will produce 120 8×10 prints or 100 8×12 prints. The printer is front loading and very easy to change out. The CE1 is not the fastest horse in the barn but respectable at about 30 seconds for an 8×10 glossy print. Cost per print is competitive at $0.92 for an 8×10 and $1.05 for an 8×12.
Another popular feature of the CE1 is its ability to print 3 – 4×8 prints from an 8×12. Using Darkroom software it is easy to create 4×8 holiday cards for your customers.
If you have any questions about the Sinfonia CE1 or any other photo printers please contact us at 800-342-9294 or reach us by email.