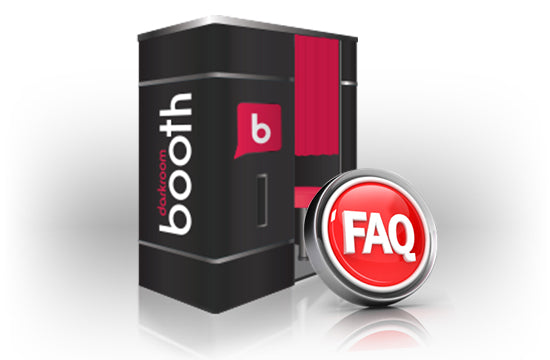 Our photo booth team here at Imaging Spectrum has been selling and supporting Darkroom Booth for a couple of months now. We thought it might be helpful to compile a list of frequently asked questions that the team has been receiving.  
What cameras will Darkroom Booth work with?
Booth will work with any Canon SLR or Nikon SLR camera that supports tethering. Darkroom Booth will also work with most Windows supported webcams, however, our experience shows that spending a little more money on an SLR really pays off with image quality and functionality. Click here to see a list of supported cameras.
What printers will Darkroom Booth work with?
Darkroom Booth can use any printer supported by Windows. That's right, any printer that has a Windows driver will work with Darkroom Booth. And, unlike other photo booth software, Booth incorporates built-in drivers for many of the most popular photo booth dye sub printers. Built in drivers increase the speed and functionality of the printer.
Do I need any other software to create my own templates?
No, creating custom screens and templates is quick and easy. Darkroom Booth has it's its own built in template editor to create and edit booth screens and photo templates. No need for any other software or knowledge of printing coordinates. Check out this video for a demonstration.
Can I add logos and other graphics to the screens or photo templates?
Yes, the template and ready screen editor can use most common graphic formats like JPG, PNG or TIF.
Do I need a really fast computer?
No. Darkroom Booth will run fine on any computer or laptop running Windows XP, 7 or 8. If you want to use lots of advanced Booth features (big live views, live green screen, multiple/large graphics), and you want it snappy with high-frame rates, then don't get the cheapest processor available.
Is there a Mac version of Darkroom Booth?
No. We have found that most booth operators want to use an inexpensive computer or laptop in their booth. Booth will run in Boot Camp, but not in virtual environments (no Parallels or Fusion). We love Macs too and wouldn't want to relegate such beautiful machines to the back of a dusty photo booth. Seriously though, solid new/used Windows PCs can be had for cheap. We've seen speedy refurbished models for around $100.
Can Darkroom Booth email photo strips or upload images to Facebook?
Yes, you can set up Darkroom Booth to prompt the user for an email address to which to send the photo strip. You can also set the size on the image from a low resolution to the full size image. Images can also be uploaded to Facebook using the mobile Facebook email address (here's how to do it).
Can I use an iPad or tablet with Booth as a social media sharing station?
Darkroom Booth will work with third party social media sharing apps. One that we have had success with is Picpic Social. Picpic will allow your guests to share their images using an iPad. A tablet version is in the works. Check it out and download a trial here.
Does Darkroom Booth include green screen functionality?
Yes, Green Screen functionality is built into Darkroom Booth Software. Green Screen is supported in the photo strips and in Live View so the user will see the green screen background on screen as well as on the print.
Can the user choose the green screen background?
Yes. With Booth's powerful screen customization you can create an experience where the user can toggle through different backgrounds and choose the one they would like.
On how many computers can I use Darkroom Booth?
The Darkroom Booth license agreement allows you to activate the software on 2 (two) computers. You can also easily deactivate a computer and move the license from one computer to another.
Is there a free trial of Darkroom Booth?
Yes, you can download a full featured trial version here. There are no limitations to the trial, however, all images are watermarked.
How hard is it to reprint photo strips?
Easy! You can browse the photo strips for any event and select the images you wish to print. You can program a button to reprint the last session.
Can I create screens and photo templates on one computer and use them on another?
Easy to build screens and templates is a key feature of Darkroom Booth. User screens and photo strips can be created on one computer, saved as a single file (all graphics, fonts and layout) and copied to other computers running Darkroom Booth. Darkroom Software is working on a marketplace where you will be able to buy and sell custom screens and templates.
Can I easily save photo strips to a thumb drive?
Yes, in the image browser screen there is an option to save the selected images to a folder, thumb drive or burn to a CD. Click here to see how.
Does Darkroom Booth support video recording?
Yes, Darkroom Booth can be set up to take still photos and/or video. Check out the video demonstrating this new feature.
Does Booth work with touch screen computers?
Yes, Booth has very powerful touch screen support. With the screen layout editor you can make buttons of almost any shape and color with text. You can then associate that button with a booth command like start, B&W, color and many others. Click here for how-to video.
I don't have a touch screen, can I use booth too?
Of course! Booth does not require a touch screen. There are keyboard shortcuts and you can program up to 3 mouse buttons (left, middle and right) each to its own command. You can also add arcade style buttons and use a serial interface and use 4 more buttons. Combined that would be 7 total buttons each with its own command.
If you have any questions about Darkroom Booth photo booth software or about photo booth printers or about the photo booth business in general, be sure to call and ask for one of our photo booth specialists at 800-342-9294. You can also leave a comment below which we will promptly address or you can email photobooth@imagingspectrum.com.
Thanks for reading!