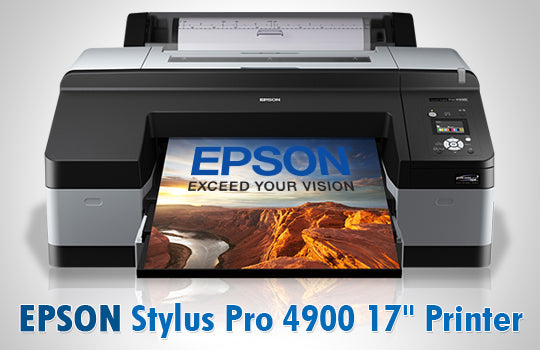 If you have been looking to get a new Epson 4900HDR 17" printer lately, you might have to wait a lot longer. Currently, Epson America is out of inventory and it might be July before they become available again in the US. But don't worry, Imaging Spectrum has a solution for you. Go Refurbished!
In stock now and ready to ship, we have plenty of factory refurbished Epson Stylus Pro 4900HDR printers at a great price. For only $1295, you can get one of these 17" wide printers and be on your way to fulfilling your larger print job requests in no time!
What's the difference between a new and refurbished Epson 4900HDR printer? Besides being taken out of the box at one time, there's really not much. Just like if you bought a new 4900HDR printer, our refurbished printers come with the following:
Full set of 80ml starter inks (11 inks)
Preferred Plus manual and complete printer components
1-year manufacturer warranty
Opportunity to extend the warranty to 1 or 2 more years
The only big difference? The refurbished Epson 4900HDR printers are $600 LESS at only $1195! On top of that, we will provide FREE shipping!*
With the current backorder situation on new Epson 4900HDR printers, this is a perfect opportunity to get one of these printers now. Please call Imaging Spectrum @ (800) 342-9294 and talk to an inkjet specialist today!
*Liftgate fee might apply