Epson to showcase new printers at Graph Expo next week including the much anticipated SureLab D3000 Dry Lab for portrait photographers.
From PR Newswire: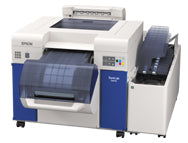 Chicago, Oct. 4, 2012
Epson SureLab™ D3000 for Portrait Photographers
The Epson SureLabD3000 professional Dry Lab is designed to give photographers a complete business solution for high quality production print requirements.  Available in a compact single roll version or a dual roll configuration for increased flexibility, either unit can be coupled with an optional 10-bin job sorter for the ultimate in job handling and productivity. Designed exclusively for use with Epson UltraChrome D6 ink technology, the SureLab D3000 delivers a new standard in photographic print quality at production speeds up to 260 8″ x 10″ prints-per-hour.  Users have the ability to create archival images on Epson Professional Glossy & Epson Professional Luster media in roll widths of 4″, 5″, 6″, 8″, 10″ and 12″ with standard photographic print sizes. In addition, package templates can be configured to deliver stunning 48″ long panoramas. Delivering a high-quality printing solution with low cost-per-print, simple consumables management, professional Windows-based driver technology and comprehensive Epson support, the SureLab D3000 offers a complete printing solution with a low total cost of ownership.
Imaging Spectrum will soon have more information to share regarding this exciting new product.