Are you prepared for a photo printer breakdown? Your warranty may not be enough to save you…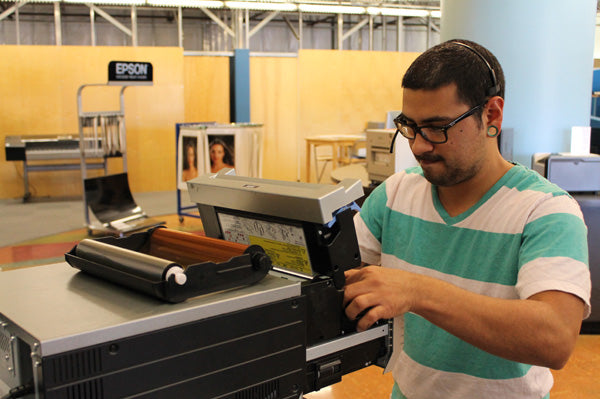 A common question that event photographers and photo booth owners have when buying a photo printer is "what kind of warranty does the photo printer have?" The typical answer is usually "one year" for just about all photo printers. What will happen if your printer breaks down? Are you prepared? The purpose of this article is to help give you a realistic perspective on what to expect if your photo printer needs repair, as well as understand the importance of being prepared for the reality of a breakdown. Your warranty may not be enough to save you.
When you have a problem with your workflow, sometimes a good technical support call is all that is needed to find the source of the problem. A reputable value-added dealer with a solid technical team can often times find the source of the problem, getting you back up and running with a phone call. Many calls that Imaging Spectrum receives each day end up being minor situations that can be addressed remotely. If it is indeed a warranty or mechanical repair situation, the dealer may be able to pre-approve an express warranty repair with the manufacturer. In some cases, if the manufacturer is slow to respond, a dealer can sometimes work with the manufacturer to speed the process along and help you. With that said, the best solution is to have a solid backup plan.
It is not uncommon for seasoned event companies to have at least 2 of everything in their imaging arsenal. Unfortunately, the backup for most companies that are new to the business is usually obtained "post-emergency" and not ahead of time. What I have learned over the years is the cost of not having a backup photo printer is often times more than the cost of buying one ahead of time and being prepared.
Most electronic warranties have what is known as a "depot" type of warranty, meaning when the printer or computer needs a mechanical repair it will need to be sent in to the manufacturer. If your printer breaks down on a Friday night and is going to require a depot repair under warranty, you will not be printing for a while unless you have a backup. In some cases, not having a working event photography system or photobooth for a day or two can cost you thousands of dollars. There can never be enough emphasis put on the fact that, as an imaging professional, you should always try to have backup hardware (especially with anything mechanical and or electrical). This would apply to printers, cameras, lights, computers, etc. In some cases, even "express delivery" of a replacement product will not get there in time to save you from significant amounts of lost revenue.
Do you have a realistic perspective on overnight shipping costs? Here is where the real costs start to add up quickly. It's not bad enough that you had to refund your client a considerable sum of cash due to something breaking down the night of the event, but doing it two days in a row with two different clients… Ouch!  Overnight shipping charges with computers or printers can cost hundreds dollars. It is even more painful to consider a situation where the shipping company lost your replacement printer and/or the shipment didn't arrive on time due to weather delays. Again, your best insurance is to have a solid backup plan.
Obviously you shouldn't expect a new printer, camera or computer to have a problem. If you take care of your printer, it should be trouble free for a long time. The event photography and photobooth business doesn't need to be a headache and shouldn't be. Stack the odds in your favor and save yourself some grief by being prepared. Back up your systems whenever possible. Backup cameras, computers and photo printers do not have to cost as much as new ones. Used or refurbished photo printers make good backup units! If you have questions about your photo printer's warranty or are looking for a backup printer, please give us a call. We are more than happy to help you!