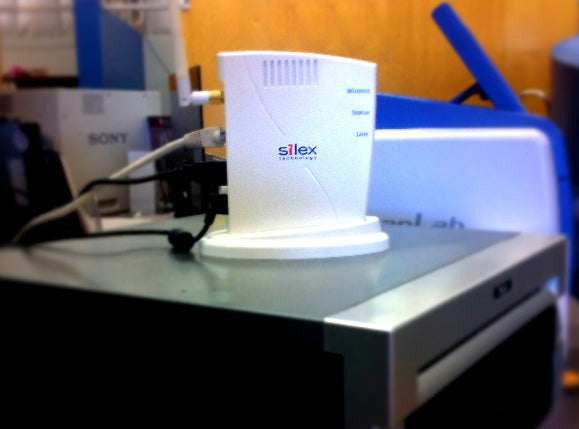 FINALLY! A network solution for your USB based photo printer!
The research and development team at Imaging Spectrum has discovered a solution to solve network printing for USB based photo printers, the Silex Network Adaptor. This small piece of hardware can be connected to any network via a cat 5 cable and in minutes provide a network hub of USB printers to choose from. You can also connect the Silex to a computer, peer to peer, and create a wireless printer.
Simply follow these easy steps:
Purchase a Silex Network Adaptor from imaging Spectrum for $75.99
Connect your Silex adaptor to your network (wirelessly via WiFi or wired with a network cable).
Connect your USB printer(s) to your Silex Network Adaptor. You can either connect one printer directly to your Silex Adaptor or up to 15 printers using a USB hub.
Load the Silex software on your computer.
Load the printer driver on your computer.
Use the Silex software to connect to your printer and print!
The Silex Network Adapter opens many possibilities including:
A wireless printer for photo booths or events.
Have multiple CPU's printing to one network of printers!
Free up office and desk space!
Stop lugging heavy printers from computer to computer!
Create a dedicated photo printer area!
Perfect for your office or studio!
Works with the following USB photo printers (or any USB based printer)
DNP Photo Printers and Photo Booth Printers
HiTi Photo Printers and Photo Booth Printers
Shinko Photo Printers and Photo Booth Printers
If you have any questions please feel free to comment below or email our tech team.
Click here for the Silex user manual.
Click for the Silex Driver. Compatible with Windows XP through 8.1.