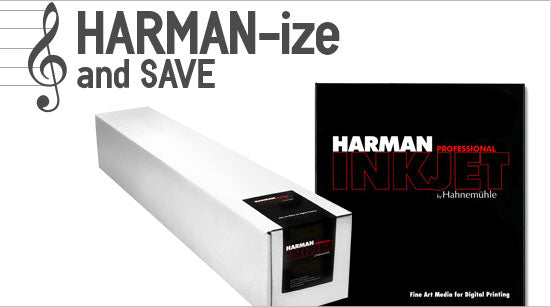 What would happen if Ilford Papers, known for their fantastic photographic papers, and Hahnemuhle, that centuries-old paragon of German paper making, had a love child?  The result would be an incredible line of photographic and fine art papers, reasonably priced and produced to the highest standards of quality suitable for discerning professionals in the digital printing world.  Well, that love child is up and walking, and it's name is Harman.
Harman by Hahnemuhle was conceived as a line of papers marrying the best of Ilford's baryta and black and white photographic papers and Hahnemuhle's legendary quality.  With a line of seven different papers in a variety of coated surfaces, fine art and photography aficionados are sure to find a paper surface that works for them.
Harman Gloss Art Fibre Warmtone
Until April 30th, all Harman by Hahnemuhle paper is on sale!  Save up to $30 on cut sheets and $20 on rolls.  This offer applies to all papers in the Harman line, so stock up and save!
Want to know more about Harman by Hahnemuhle?  Give us a call and speak to one of our inkjet specialists or request a sample pack.  You are sure to find a paper that you'll love!
All HARMAN by Hahnemuhle specifications in cut sheets
8-1/2 x 11, 30 sheets
SAVE $5.00 per box
11 x 17, 30 sheets
SAVE $10.00 per box
13 x 19, 30 sheets
SAVE $15.00 per box
17 x 22, 30 sheets
SAVE $20.00 per box
Gloss Baryta
17 x 25, 25 sheets
SAVE $20.00 per box
All HARMAN by Hahnemuhle specifications in rolls
17″ x 39′ roll
SAVE $15.00 per roll
24″ x 39′ roll
SAVE $20.00 per roll
36″ x 39′ roll
SAVE $25.00 per roll
44″ x 39′ roll
SAVE $30.00 per roll